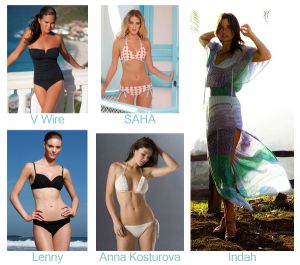 For the beach snob, one-stop shop Kiki Soleil has everything you need for a season of pool parties, cabana-lounging, and surfside vacationing. At CoutureSnob.
Stiletto Jungle has 8 smart work fashion tips for new grads, from what to wear to where to buy it.
Matthew McConaughey and Camila Alves are expecting baby number three. Allie is Wired has the details.
BagSnob adores Mark Cross for their timelessly elegant sensibility, rich history (which involves a classic movie star following), and emphasis on structure. No matter what your age is the Mark Cross Scottie Wristlet can be for you!
Coquette shows off the stylish sneakers from Converse's new collaboration with Marimekko.
Giuseppe has done it again! Just when ShoeSnob thought fall shoes were getting boring, here comes the ever-trusted Zanotti to brighten her up with the Giuseppe Zanotti Platform Ankle Boot.
Just because you're on summer vacation, it doesn't mean your style is on a break too! Second City Style shares Finds On A Dime: Summer Kicks That Beat The Heat.
Givenchy may have put the shark tooth on JewelSnob's radar with the badass oversized pendants and deep-diving skins of their Spring 2012 collection, but Anita Ko has made them something really special.
Check out Emma Roberts's beauty must-haves on The Beauty Stop.