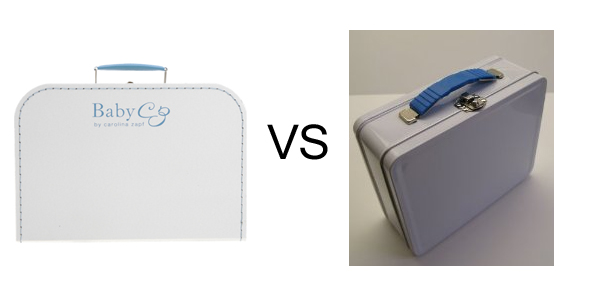 How adorable is this gift idea? Baby CZ has deftly converted an old-fashioned lunchbox into a little treasure trove of tot wear! Showing up at a baby shower or a new-mommy friend's house with this in hand ensures you'll have one of the most unique presents she'll receive. The only downside: this boxed set is $225 (at Barneys New York). Which basically means you're paying a couple hundred for a cotton footie, hat, burp cloths, and towel. And I just don't know if I can necessarily advise that.
But what I can advise: assembling your own frugal version! The key is finding a lunchbox that's vintage-inspired and simple – you don't want it look like it's actually storing a turkey sandwich and juice box. Westrim Craft's gleaming white lunchbox (On Amazon for $6.99) is a smart choice. Then just add the newborn essentials: Giggle Better Basic's side-snap footie
($20), skull hat
($16), set-of-four burp cloths
($28), and hooded bath kimono
($34). All for less than half the price. Lunch is served!