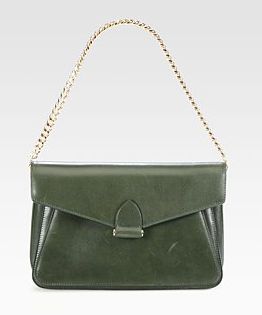 This is not your ordinary convertible clutch. This deceptively slim silhouette has super-storage powers, snapping open to reveal three compartments that expand like a filing cabinet. Derek Lam is always thinking about how to give you the most bang for your bag, and the neutral-green Francis lives up to its maximum potential, so you don't have to sacrifice carrying anything.
The simplistic envelope shape actually has more to it than first meets the eye; multiple compartments have a layering effect for a look of satisfying fullness. The color: divine, soft, and versatile; the leather: ultra-soft (but it has the disadvantage of scratching easily); and the simplified hardware: I'm just loving it. But what really grabs me is the Francis converts to one of the few clutches that won't feel disorganized with you're your stuff crammed in. For me, it's a natural fit. At Saks Fifth Avenue for $990.
Pair with: Add just a touch of prep with Paul & Joe Sister's knitted sweater, with a contrasting Peter Pan collar. On Net-a-Porter
for $330.