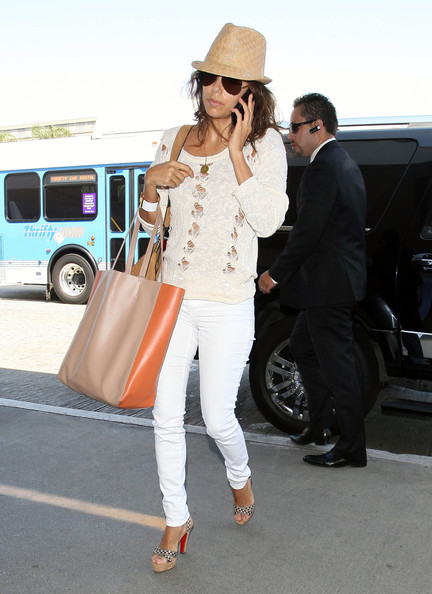 Breezing into LAX on August 10th, Eva Longoria nailed uncannily fresh travel dressing. With a cream-and-tan palette of her favorite Henry & Belle jeans, in their signature straight cut, Stylestalker Macaroon sweater, Christian Louboutin sandals, and enameled Hermès Clic-Clac H bracelet, Céline's two-tone Cabas tote makes for an ideal second carryon. Topped with an incognito fedora and shades, this puts most other airport ensembles to shame.
Next time you hit the skies, why not perfect your own version of elegant yet comfortable neutrality? Just be sure to keep a pair of flats in your tote in case you have to make a sprint to your gate.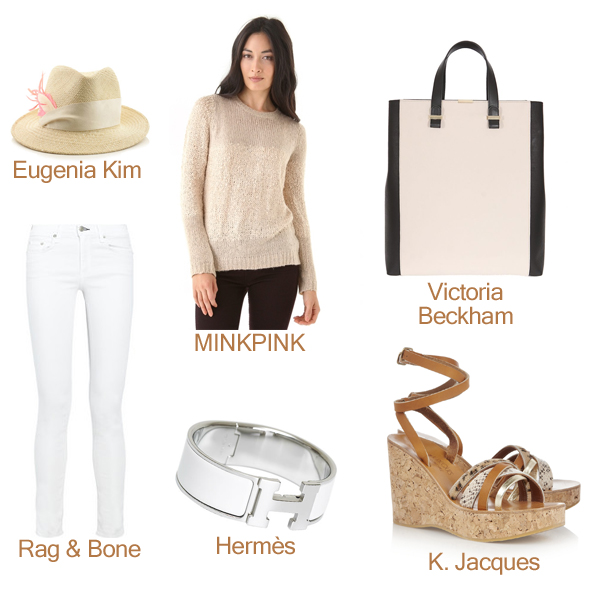 Rag & Bone Jean Mid-Rise Skinny Jeans

On Net-a-Porter for $175.
Minkpink Sands of Time Sweater

On Shopbop for $71.
Hermès Clic-Clac H Bracelet
At Hermès for $630.
Eugenia Kim Panama Fedora Hat
At Matches Fashion for $317.
K. Jacques St. Tropez Patsy Leather Wedge Sandals

On Net-a-Porter for $315.
Victoria Beckham Leather and Coated-Canvas Shopper Tote
On Montaigne Market for $1,325 (€1075).