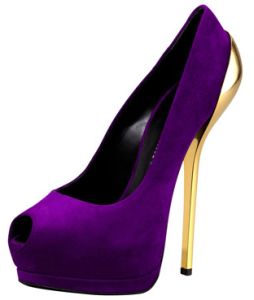 I'm going go out on a bit of a limb here and say it: Fall 2012 is set to be the season of the heel itself. First, spine-embellished and backless dresses commanded Spring, now with our heels taking center stage, a grand exit sounds way more appealing than an effective entrance at the moment.
Undoubtedly, Giuseppe Zanotti has done a fabulous job of enhancing his heels. In super-shiny, lusciously lacquered gold, this fancy stiletto is like a piece of high-glam armor, elevating the simple pump. If that five-incher looks intimidating to you, then the shoe is doing its job. Not only is this violet suede peep-toe designed to impress, it's made to empower. Just don't drive in them and be sure you don't hook these heels over the footrest of your barstool, or this solid gold will get sadly scuffed. You will need to take extra care to not rough up this perfect polish. Handle with care and strut with certainty! At Bergdorf Goodman for $850.
Pair with: Purple and green is a confident combination, so you'll look just as striking entering the venue with Alexander McQueen's ruffled stretch-crepe dress. On Net-a-Porter
for $2,480.