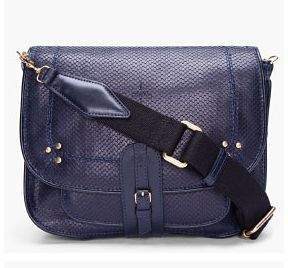 Jerome Dreyfuss is getting more refined with time. He has always had a great way with details; he understands where to add the right finishing touches and all the little things that take a bag from solid to special. And when to subtract – knowing when to stop is the mark of that genius eye everyone is seeking.
The Fredo bag has a bit of a "let loose" attitude, along with all the right restraint. A ladylike shoulder with a rock 'n' roll vibe? I'll take it on the spot! Scaly leather is reminiscent of python, but this texture is truly original. In inky indigo-blue, it's irresistible. Topped off with a thick canvas-and-leather shoulder strap, you get statement (which says you're up for anything) and functionality (no slipping). On Ssense for $910.
Pair with: Offset deep, dark blue with a rich pink manicure. T. Leclerc's nail polish in Sorbet Cassis is an ideal contrast. At Barneys New York for $18.