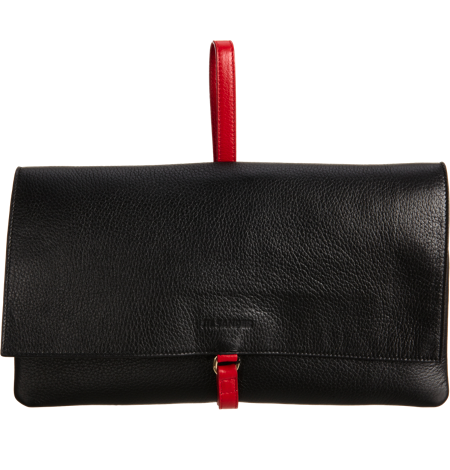 Just a pop is enough to make you stop in your tracks. I know I've said it before, and I'll say it again: here is a simply amazing clutch from Jil Sander. Most literally, simply. Can't commit to all-over red but you still want to show some heat? There's no need to take the plunge when just a splash feels this satisfying: a slim cherry strap is enough to give the impression of sizzle without starting an actual fire. And like all things Sander this strap is smart! It ingeniously wraps around the body of the bag as a closure, not just a handle. So no need to clutch it under your arm for dear life when you're using the lady's room. Let it dangle nonchalantly – it's not going anywhere and neither are your belongings. Scarlet bags can read prissy, which is why pebbly black leather is a great texture for setting off this strong true red.
At Barneys New York for $800.
Pair with: Black, red, and mint? It might sound like an unlikely grouping, but this pale-green sateen peplum skirt (more angular than ruffled) by Tibi makes for a cool combo.
On Shopbop
for $275.