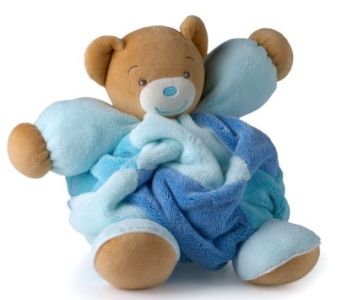 My son is almost 8-years-old and he is still a very lovable little boy (except for pretending not to know me when I cry during a movie or on his first day of school in second grade), and he still loves his Kaloo patchwork teddy bear. It is one of two things he cannot do without at bedtime – the other being his mommy. (Thank god he's not aware that I have this Tot Snob blog or he'd die of shame knowing that I am sharing this with you!)
My girlfriend gave him the Kaloo bear as a gift when he was born. As a new mommy, I was hesitant to put anything in the crib (SIDS haunted me nightly!) so I waited until he was about 6-months-old before giving it to him – even though everyone assured me this was a "breathable" stuffed toy. He chewed it (there are no buttons or any parts that can be gnawed off) for a few weeks before embracing it as his new roommate. For the last 8 years, we have traveled with his bear, "Bao Bao" (Chinese for baby bear), from Paris to Beijing to the Bahamas and beyond – 12 countries and dozens of cities. The one constant, other than me, has been Bao Bao. It is also one of the things that he always keeps in his backpack on airplanes! Even though some people say you shouldn't let kids get attached to security blankets or teddy bears, I say it is the best thing in the world for them – especially for an only child.
My boy has gone through the Power Ranger phase, Transformer phase, Batman phase – all of them. And he has abandoned all of them, except his bear! Last night he actually told me that when he goes to college he is taking Bao Bao with him (how cute is that?). I just bought a pink one for my goddaughter with the hope that she will love it for a lifetime as well.
The Kaloo Patchwork Bear is made of breathable fabric so you really don't have to worry about your baby being suffocated. And it is machine washable and dryable. Bao Bao has had weekly washes for 8 years and he is still in very good shape! At Kaloo Store for $48.99.