I met Aerin Lauder at a dinner honoring my friend, jewel-artist Cindy Chao, and hosted by Lauren duPont over a year ago. She had a healthy glow that implies hours spent outdoors playing with her boys (what we should all do more of!) and was as poised and warm as she appears in the glossies. Heir apparent to a mega-cosmetic brand, it was natural she would launch her own line, aptly named Aerin. This venture, which she started after leaving her dual positions as Estée Lauder's Senior Vice President and Creative Director, has been a long time in the making (or as Aerin says- 42 years to be exact!); true to her fashion, the attention to detail is unparalleled. Offering a range of beauty and home goods (she tells us "For me, beauty and home live together"), the collection is an extension of Aerin's effortless lifestyle.
Expect simple and easy pieces that could be found in Aerin's own powder room, mistake-proof makeup and beauty essentials that help women "feel confident and pretty while balancing work, family, and home." As a working mom myself and a girl of a certain age, I can tell you this is exactly what I've been waiting for: foolproof makeup I need not think about before running out the door for school drop-offs or dates with the hubby (I can't tell you how many times I don't realize my eyeliner is smudged, and not in the good way, or my blush uneven until AFTER I arrive at my destination). Leave it to this nonchalant sophisticate to be thoroughly down-to-earth while offering elevated glamour. We recently asked Aerin to share her favorite five essential bags with us– read on for her subtly luxurious selections!

Prada Leather Woven Tote: I bought this bag in beige for the summer and I loved it so much that I got it in black. I love how lightweight it is and it wears really well.
AERIN Make-up Bags: It's essential for me to be organized when I travel. So the most important travel bags for me are beauty bags. The ones from my AERIN collection are perfect for compartmentalizing. I use the bigger size for all of my routine items such as face creams, face wash, toothbrush etc. The medium one is perfect for my make up essentials. The small one I use for my jewelry and the clear one is an amazing alternative to an everyday Ziploc. The best part is that they were designed to meet TSA requirements.
Bvlgari Serpent Bag: Love this for Fall. It's the perfect shade of white and it has an uptown/downtown feel that is hard to find in one single bag.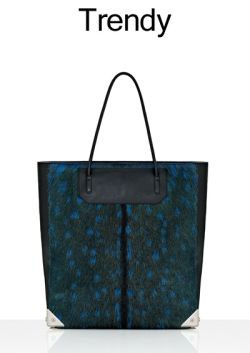 Alexander Wang
: I see a lot of people with the Alexander Wang bags. This one is fun and currently on my must-have list.
Tom Ford Gold: Gold is my favorite neutral color. This Tom Ford clutch is so luxurious and would look great with anything from jeans to a gown.