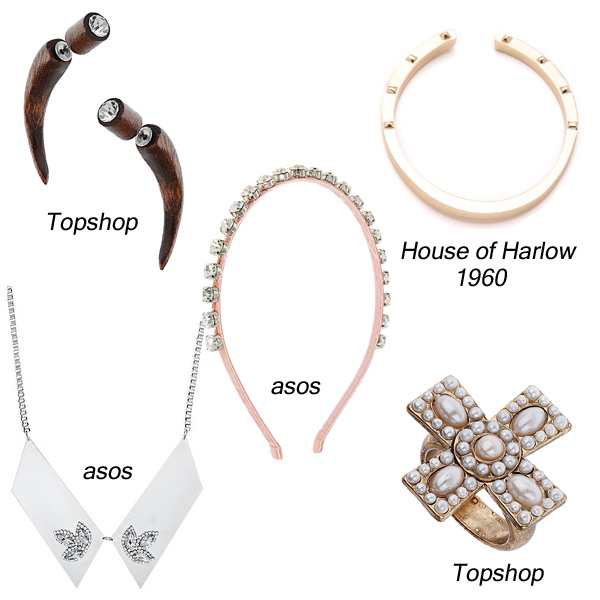 Savvy snobs know that no amount of money can buy good taste or style. The sharpest of savants also know that the right accessories can convert last season's old wardrobe into this season's must-haves. With that in mind, here are the best jewels under $50 to perk up your fall season, no commitment required:
1. House of Harlow 1960 Horseshoe Bangle
: One of these incognito horseshoes is not enough –this bangle must be worn three at a time. (Always wear an odd number of bangles. It just looks right.)
On Shopbop for $48.
2. Topshop Pearl Cross Ring: It's all about the ladylike details. This statement ring brings to mind the old Sicilian decadence of Dolce & Gabbana's over-the-top yet nuanced pieces.
At Topshop for $20.
3. Topshop Wood Stone Ear Tunnel Earrings: Go tribal for fall, with this ear-spearing pair of wood sparklers, lightly reminiscent of Givenchy's trademark ferocity.
At Topshop for $18.
4. Asos Limited Edition Crystal Aliceband: Teased hair with a bejeweled headband? Yes. So Oscar de la Renta Fall 2012 runway, so undone Park-Avenue princess.
On Asos for $20.44.
5. Asos Petal Brooch Necklace: A collared necklace is a must for the season, and I like the nonchalance of the way this one loosely hangs. Drape this over your LBD and channel The Mademoiselle (a.k.a. Coco Chanel).
On Asos for $25.55