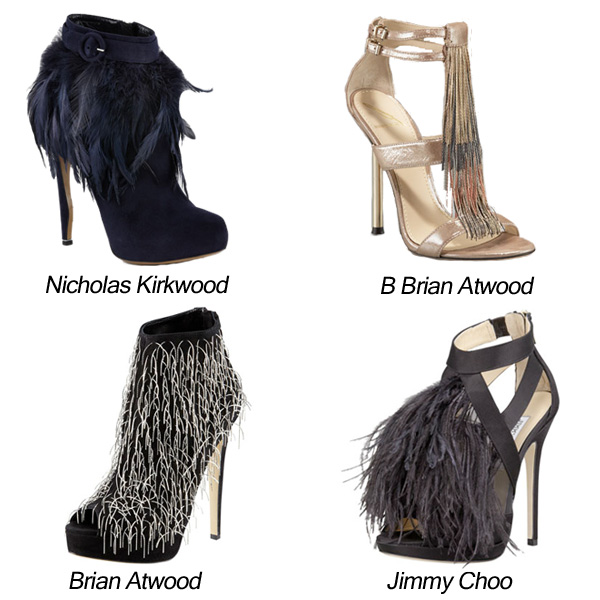 Recently, I've been charmed by an array of embellishments so over the top they literally overwhelm the shoe. Usually, that's a bad thing, but not in this case! Here, the adornments are the satisfying centerpiece for a dose of shoe fantasy. Tufts of fur, dangles of chain mail, and bouquets of feathers fall off these high heels for a decadent extravaganza – and who wouldn't want to join this party? Well, shy types, for one. These are for the girl who doesn't keep it quiet for anything. Be loud and be proud!
1. Nicholas Kirkwood Feather-Trim Suede Bootie: Let your ankles feel fancy while the rest of your foot remains refined with these feathery flourishes. A smart buckle keeps the look just tailored enough.
At Neiman Marcus for $1,390.
2. B Brian Atwood Chain-Fringe T-Strap Sandal: Frugal picks this glamorous don't come along every day. Delicious tri-toned chain fringe will caress your toes and seduce onlookers.
At Neiman Marcus for $191 (from $425).
3. Brian Atwood Twinkle Chain-Fringe Suede Bootie: Brian does it again with fringe-like chains that are as enigmatic as they are exuberant. Bling for your feet is rarely this edgy – only the bold need apply.
At Bergdorf Goodman for $2,758.
4. Jimmy Choo Teazer Satin-Feather Sandal: Is it called the Teazer because it teases your tootsies with whisper-soft ostrich feathers or taunts all the other girls who wish they were wearing your sandals?
At Bergdorf Goodman for $1,095.