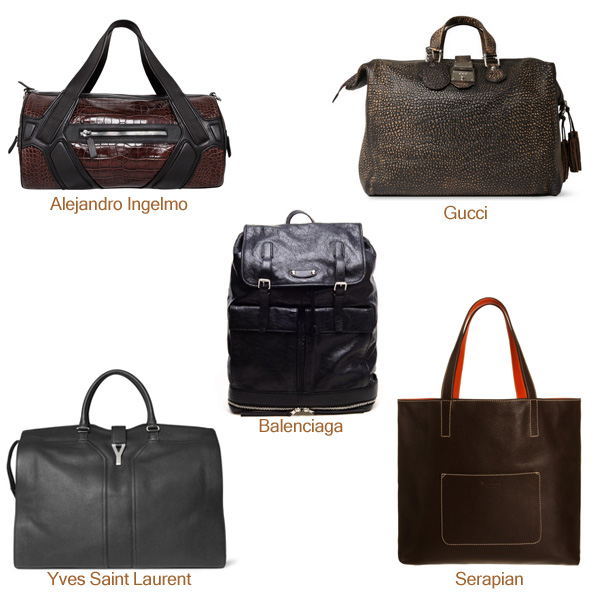 There's a few things that remind me of fall: high quality leather, and ridiculously sweet maple candy. Since I've quit the sugar (with a cranky side-effect at the moment), I guess I'll just deal with the leather…This season though, we're talking about beautiful accessories and bags that are just perfect for that trip upstate or to Vermont for some skiing, and to carry back maple candy…
Here are my top 5 fall bags for those into a schlepping device:
1. Alejandro Ingelmo Tron City Duffel in Brown Stamped Croc Leather:
Okay, so I'm a huge fan of Alejandro for his shoes (they're stunning if you've been living under a rock), and now I find out that he has awesome bags such as this gem? So stunning and chic for a duffel bag. The design is sporty, yet luxurious, and best of all, rather affordable at a price point of $1,125.
Inquire at Alejandro Ingelmo for purchase.
2. Gucci Burnished Crocodile-Embossed Leather Holdall:
Gucci continues to impress me, and here's why. The esthetic of the house is now geared towards high-design and style. This bag, with this incredible leather, is pure beauteous execution. This is not the Gucci of the day of Tom Ford, or even before. This is the Gucci of the future. It's also rather roomy.
On Mr. Porter for $2,450.
3. Yves Saint Laurent Full-Grain Leather Holdall Bag:
Fact: this bag is approximately the size of my apartment, and it will hold EVERYTHING. YSL succeeded here, taking a rather classic design and modernizing it for the Man Snob in every dude. The leather is a beautiful full-grain, and frankly, this isn't just a bag for Fall 2012; this is for the rest of your life.
On Mr. Porter for $2,395.
4. Serapian Reversible Travel Tote:
Serapian is one of those labels that flies under the radar, and I have no idea why. Rendered in beautiful dark brown (the color of the eternal, obviously), the interior is a vivid orange. Now that's bag design at its absolute finest. But wait, like an infomercial, you get two bags for the price of one! Just flip it inside out.
At Barneys New York for $1,100.
5. Balenciaga Aged Leather Traveler Backpack:
It was inevitable that the house of Cristóbal would make an appearance on this list. This aged backpack is perfect for traveling, and frankly, I think this is one of the best backpacks that I've ever seen. A great bag, this is perfect for a student or even a guy just throwing a weekend's worth of clothes for a trip.
On Browns Fashion for $1,422.78.