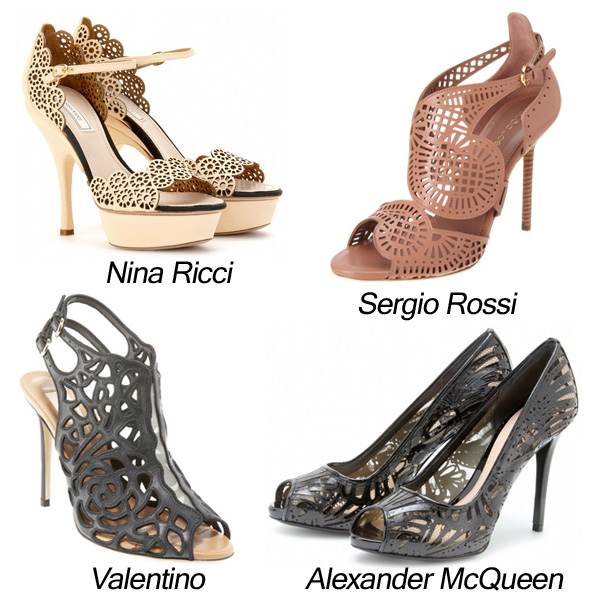 Fall might be hot on our heels, but I'm not ready to give up showing skin entirely. The best way to do it without a big reveal? The laser-cut shoe, punctured with care and deliciously, delicately suggestive. Just a hint of skin is all you need, and these precision-perfect cutouts make a smooth transition as the temperatures begin to fall.
1. Nina Ricci Laser-Cut Sandals: Nina's spring hit looks bouquet-fresh now, and I'm liking the sweet price. Give them an autumn makeover with bold black tights.
On My Theresa for $446 (from $776).
2. Valentino Rose Laser-Cut Slingback Bootie: Roses get the tough-girl treatment in black leather, and that burst of mesh easing down the center? Too sexy for words.
At Bergdorf Goodman for $975.
3. Sergio Rossi Laser-Cut Sandal: Artistic lines and shapes bring a highbrow feel to this not-so ordinary stacked heel, in a shade of antique rose that's perfect for this time of year.
At Barneys New York for $870.
4. Alexander McQueen Laser-Cut Patent Leather and Lace Peep-Toe Pumps: An audacious effect on a classic silhouette, the cutouts reveal fishnet lace.
On My Theresa for $568 (from $1,135).