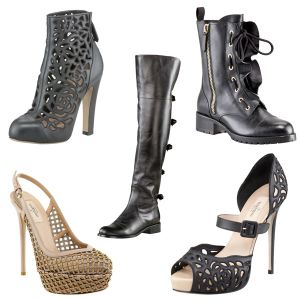 Let's hope Valentino won't actually be their final (far from it), but Maria Grazia and Pier Paolo certainly have the final say in lace-like laser cutouts. At ShoeSnob.
Want to perk up your fall wardrobe? Stiletto Jungle picks fall blazers with a litle extra kick.
CoutureSnob picks out her Top 5 Modern Metallics to get ready for Cocktail Hour.
Is Lindsay Lohan going to star in the new Lady Gaga music video? Allie is Wired has the answer.
Double your vanity with the Maison Martin Margiela Gold Compact Ring which is an oversized statement ring that opens up to reveal a mirror. At JewelSnob.
Second City Style knows in addition to being the home of the 2012 Olympics, London has a quintessential style all its own, and found favorite classic British looks in Get It Now: London Calling.
Just a pop is enough to make you stop in your tracks. I know I've said it before, and I'll say it again: the Foldover Clutch is a simply amazing clutch from Jil Sander. At BagSnob.
The Beauty Stop reports that Tori Spelling will be launching a new kids fashion line for JC Penney — Little Maven.
TotSnob hates to even mention the word "backpack" so early in August (and definitely avoids that dreaded phrase, "Back to…" for the sake of our tots), but, let's face it, time is flying. Beatrix New York Backpacks are adorable and can help the tots get ready for what's coming.