Call it granny, call it geek, call it little-girl, or call it just plain wrong: white socks with chunky sandals have always been considered a sad mistake. This pairing has even been publicly warned against! But anything and everything can have a fashion moment. What's mocked becomes the look on the cool girl. It's only a matter of time before certain frumpy faux pas become covetable trends. Looking like you don't really care is always hip, as long as you do it with irony. Or take a cue from one of Phil Oh's street-style shots, and go for badass decadence, via a glam red lip, sheer top-and-corset combo, Givenchy skirt, and closed-toe pumps.
Here, three ways to rock this kooky look…are you confident enough to pull it off?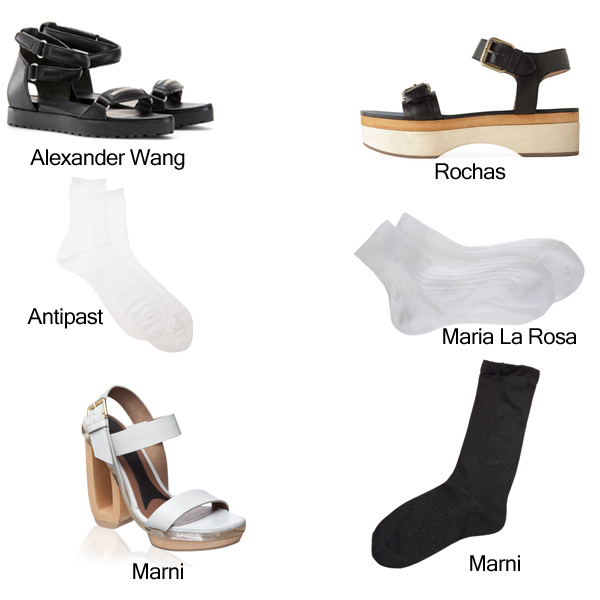 1. Alexander Wang's Raquel leather sandals (on My Theresa for $332, from $553) are flat and comfy-looking. Which makes adding a pair of plain shorty socks by Antipast (at Barneys New York for $22) all the more jarring.
2. A blonde wood sole ought to soften the look, at least a little. Try Rochas' wood platform sandal ($347.50, from $695) with Maria La Rosa's ribbed anklet sock (at Barneys New York for $75).
3. Switch the look around and wear Marni's Spring '12 white sandals ($495, from $900), complete with a quirky cutout-wood heel, with their short stocking socks ($30, from $60) in black for an in-your-face contrast.
Available at Marni.
Image Credit: Streetpeeper.