Forgive me for sounding biased, but for me, Tomas Maier can do no wrong. This time, he's not only doing something just right, he's onto a project that's all about doing good. Out of their Cruise 2013 collection and in honor of Fashion's Night Out (rapidly approaching tomorrow, September 6th!), Bottega Veneta introduces a line of eco-friendly bags. You know Bottega never just goes halfway; when they say green, they mean it. They have used sustainable, vegan materials and environmentally sensitive dyeing processes.
So what are these bags made of, if not sumptuous skins? Lustrous, lightweight jersey and Japanese washi paper! "I decided to make the jersey and paper bags after speaking with customers who wanted sophisticated, hand-crafted bags that are non-leather and earth-friendly," explains the forward-thinking Mr. Maier. They treated the jersey (available in two styles and your choice of nero, shadow, appia, or krim) just as they would leather: perforated and woven to trademark Intrecciato effects. Lined in silk, this is jersey as you've never experienced it before. The paper bags (made from young-kozo bark) are equally impressive; with raw edges and ultra-precise weaving, these black bags (also in two styles) are an enigma for the eyes and hands. Pitch-perfect hardware tops it all off.
Not only has Bottega and their Creative Director succeeded expectations, they are making me forget about leather entirely. Well, at least for one night out! A total of 100 nero intrecciato jersey handbags will be available on a first-come, first-serve basis on Fashion's Night Out (shared over Bottega Veneta stores nationwide), followed by an official release by the end of fall at Bottega Veneta online and in stores.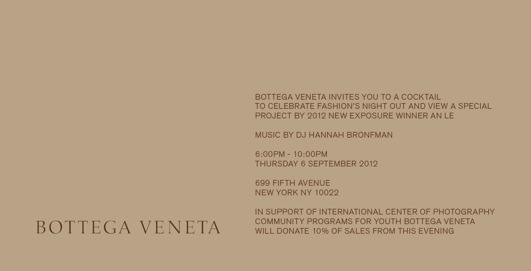 This post is also available in: Chinese (Simplified) Chinese (Traditional)