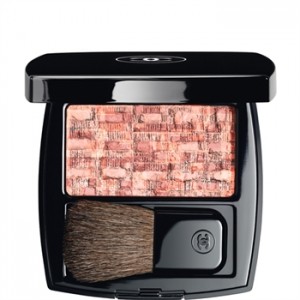 There are a few beauty products I can not live without this season, two of them being CHANEL compacts- Lumieres de artifices and the Blush Les Tissages. I do not tan my face, ever. I'll let my stomach, legs, and arms roast but the face/neck/chest? Under wraps, hats, or SPF 65+. This makes for a very unattractive and color-blocked body so I've relied on bronzers to keep my face from hovering ghost-like above my tanned gams. The problem with most bronzers is that they make Asian skin look dirty instead of glowy and pretty but CHANEL's new Lumieres de Artifices is pretty much perfection! The light bronze and beige shades coupled with a few specks of golden sparkles give me a "I spend my time in St. Tropez not behind a computer all day long" shimmer. And the Blush Les Tissages? Different hues of rose and pinks with a white highlighter for you to blend for the ultimate healthy glow! If you splurge on any beauty products this season, get these two compacts! Both at CHANEL.com
Jump for info on CHANEL's fashion night out exclusives!

The most exciting (and frightening) night of the year in New York City, Fashion's Night Out, is almost upon us. The exciting part is all the great parties and exclusive products that are available– like Les Twin-Sets de CHANEL. The frightening part is being stuck downtown because the cabs are all hiding and having to walk an hour back to your hotel in 5″ heels. And let's not even get into the drunk people on the streets who confuse FNO with Mardi Gras. But I digress, let's get back to this fabulous new set from CHANEL.
Luxury and festivity come together for CHANEL's new edition of Fashion's Night Out from Peter Philips, Creative Director of CHANEL Makeup. Celebrating fashion in colours with a collection of matching duos.
For the lips: ROUGE ALLURE VELVET, the luminous velvety lip colour sets a modern, elegant style. For the nails: LE VERNIS complements the lip range by taking on bursting shades. Three unique harmonies for three attitudes to be worn like a twin-set: stylish and resolutely feminine.
LA PROVOCANTE & PROVOCATION: a unique autumn plum harmony.
L'INFIDÈLE & INFIDÈLE: an intense pink with a burst of energy.
LA DÉLICATE & DÉLICATESSE: a refined expression of beige to play on the natural side of sophistication.
LES TWIN-SETS DE CHANEL Nail Colours, $26.00 each.
LES TWIN-SETS DE CHANEL Lip Colours, $32.50 each.
The TWIN-SETS DE CHANEL collection presented at Fashion's Night Out will be sold at CHANEL boutiques as of September 6, 2012.
Available for pre-order now at CHANEL.com.