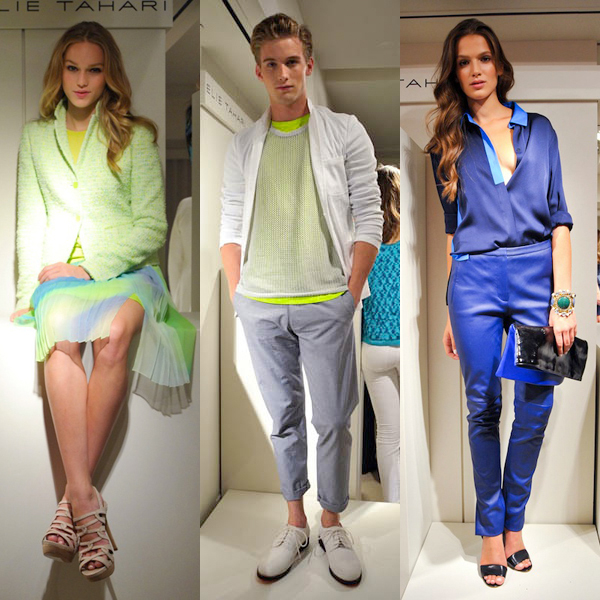 Even if Labor Day just passed, we could all use a holiday…anytime of year! I spoke to Mr. Tahari at his Spring '13 presentation, and he strongly agrees, so he's serving up an island getaway, via a collection of vacation-inspired, brightly colored, carefree clothes. The mood of the presentation was all about a good time, too. I walked in to a cover of Duran Duran's "Save a Prayer," which made me feel right at home, and the upbeat vibe continued. The great DJ (a hot woman, which is the coolest) unleashed one '80s beat after another
Textures produced with appliqués, tweeds, and best of all, an eyelet laser-cut leather peplum top with skirt, caught my eye. Even faux textures were made with vivid patterns. "If you can't do it, fake it," Tahari said. This motto also applies to the rest of the collection. He noted there is no reason you can't take vacation spirit to work. And I agree! If you need to wear a pencil skirt, why not do it in uplifting lace? And if you can't get to the tropics, well, then bring the tropics to you, courtesy of leafy prints, shift dresses the color of beachside cocktails and tweed jackets the shade of the Caribbean ocean.
Acid-neons and airy tie-dyes are all about fun, sequin dresses bring under-the-sea effects, and white jeans for weekend keep the mood light and casual. Inspired by photographer Slim Aaron and his "beautiful people at play," the model boys served as eye candy, so I'm including a gratuitous image of Thomas for good measure!
After the show to end a perfect NYFW day, I lounged at Jimmy, the rooftop bar at The James Hotel, which has a 360° view of the city and watched the sun set over the Hudson River. The most idyllic way to cap off a full day in New York.