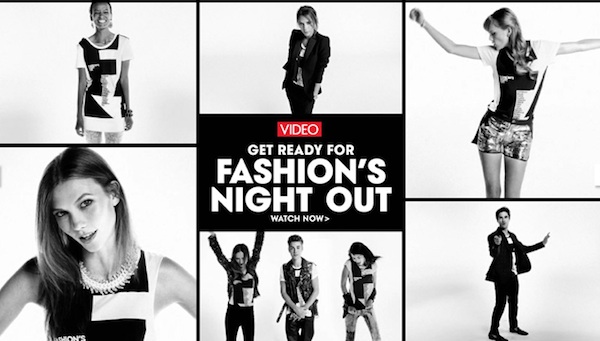 How to survive one of the most exciting yet horrifying night of the year?! Seriously, I think many people confuse FNO with Mardi Gras on Fifth Ave. The only tip I have for you on FNO is to plan ahead and stick to a few places within walking distance of each other (I learned this when I had to walk from meatpacking to midtown in heels because I couldn't find a cab after working at an event!) This year on FNO I will be filming for China's massive site, Sina.com.cn and conducting interviews at several locations. I'm being very smart and have several back up transportation plans for myself and crew in case we get stuck somewhere– including car service, pedi-cabs, bus lines, and subways. I even considered a helicopter but sadly it's not our budget! But by planning ahead I will be ready to face the crowds and hopefully beat the traffic! Where will you be on FNO? No plans? Jump for our suggestions– from NYC to Miami, we've listed our favorite can't miss events!

I am addicted to Tom's Noir fragrances! I have travel sized samples of all four and mix them together. Unfortunately my boyfriend Tom Ford will not be at the events but you should still stop by to get a sample of the fragrances.

Valentino has a glamourous night planned, don't miss out.

More events:
CHANEL– 15 East 57th Street – 6 to 10 PM
Creative Director of CHANEL Makeup Peter Philips celebrates fashion in colors with a new Fashion's Night Out collection of matching lip and nail duos.
Louis Vuitton – 1 East 57th Street – 6 to 10 PMLouis Vuitton celebrates Fashion's Night Out 2012 with a journey aboard the famed Louis Vuitton Express at the Fifth Avenue Maison.
Valentino – 746 Madison Avenue – 6:00 to 9:00 PM
Valentino will be celebrating Fashion's Night Out with hosts: Genevieve Jones, Nicky Hilton, Olivia Palermo, and Sofia Sanchez Barrenechea Music by: Sean and Anthony Souza
Donna Karan – 819 Madison Avenue – 6:00 – 9:00 PM
Join Donna Karan for an book preview and signing of the new book, "Stephan Weiss: Connecting the Dots" by Donna Karan. Enjoy champagne and the new fall collection
Jeffrey New York – 449 West 14th Street – 6:00 – 9:00 PM
Jeffrey New York is excited for yet another fabulous Fashion's Night Out including celebrity appearances by Jessica Chastain and Dan Stevens from new Broadway musical The Heiress! Listen to tunes spun by guest designer DJ Monique Péan while sipping healthy BluePrint Juices. Sally Hershberger Downtown stylists will provide the latest hair trend – complimentary temporary extensions in pops of color! We have lots of other surprises in store, including a Valentino pop-up trunk, so check back often!
Kirna Zabete – 96 Greene Street – 6:00 – 10:00 PM
Join us in celebrating Fashion's Night Out from 6-10pm for an evening of shopping, drinks and treats, and live music mixed by DJ Ted Gushue. We will be launching our exclusive KZ products so be the first one to get your hands on it! Complimentary gifts with purchases of $100 or more. Portions of all sales will be donated in support of Baby Buggy, an organization founded by Jessica Seinfeld to help families and Mothers in need.
Bergdorf Goodman – 754 Fifth Avenue (a one stop shop, you can just stay in the safe lavender confines of Bergdorfs all night)
Starting at 3:00 pm: Special guest appearances by beauty experts and makeup artists including Aerin Lauder, Francis Kurkdjian, Colette Malouf and Miss Pop nail bar, Brows by Sonja, lashes by Taylor and more. With DJ Johnny Dynell.
6:00 PM: BOOK LAUNCH PARTY . On 3. Book signing with author Sara James Mnookin and designers to celebrate the new book "Scatter My Ashes at Bergdorf Goodman" (Harper Design.) With special guests Edward Bess, Halston Heritage, Lela Rose, Michael Bastian, Naeem Khan, Rachel Zoe, Roberto Faraone Mennella & Amedeo Scognamiglio, Thakoon Panichgul, Robert Verdi and more. Music by Andrew Andrew
6:00 PM: One city, one store, one experience. Since 1901. Join us at Fashion's Night Out for a very special birthday party throughout the store to kick off a season of celebrations commemorating Bergdorf Goodman's 111th Anniversary. Featuring the launch of the new book "Scatter My Ashes at Bergdorf Goodman" (Harper Design), and an exclusive collection created especially for the anniversary by more than 100 designers. DJ Lady Bunny.
6:00 PM: Put on your party hat! BG and Tumblr invite you to capture your favorite FNO moments with Tumblr photographers and Bosco photo booths on 5F. Photos will stream on Tumblr and designers will be on hand to help style guests and share images with their own social media followers. Our very own 5th/58th astrologers Amy Zerner and Monte Farber will also be on hand, reading tarot cards and sharing their special brand of celestial wisdom.
7:00 PM: The birthday celebration continues in the Men's Store! Join us there for live music by The Blue Vipers of Brooklyn and DJ Thomas Meggs as we celebrate the launch of our newly-renovated Third Floor and introduce the Shoe Library.