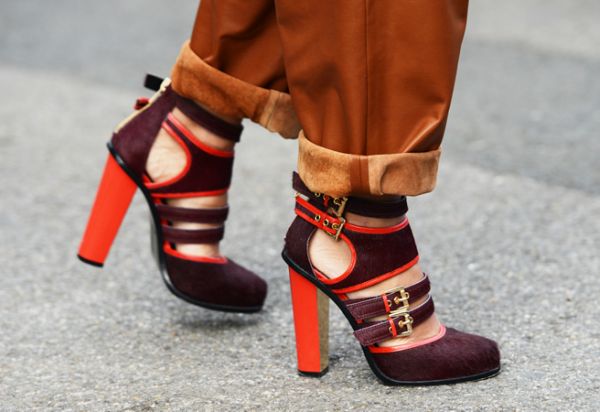 Of course, all that enchants and inspires for the next season happens within the tents, but we know that all the action and invigoration occurs out on the streets, when real life and runway mentality collide! What else can you expect when you have some of the most fashionable ladies in the world in one place? From New York and on to across the pond, here's a roundup of the best of Fashion Week street style so far:
Colorblocking looks fabulously fresh when you take the offbeat combo of red and plum, enhanced to the fullest with buckles and texture galore, and bring in an even more unexpected element: cuffed leather pants! We know Londoners love Nicholas Kirkwood, as illustrated by the bold woman wearing his awesomely abstract, Picasso-inspired booties (that tassel makes them bona-fide head-turning), but who knew they had such a way with Walter Steiger pumps? Three shades of blue plus slashed denim plus bent heels add up to success.
Art inspiration is proving to be a trend that holds its own, from sunset palm trees to '90s-inspired, marbled platform mules, and menswear is still going strong, especially when cutouts are involved, but it's the twisted ladylike looks, as seen in New York, I might love the best. Hanne Gaby Odiele worked a futuristic take on the New Look to perfection, while Ramya Giangola gave her geometric Comme des Garçons skirt a boost (not that it needed one) with some always-welcome leopard.
Images via Street Peeper and Jak and Jil.