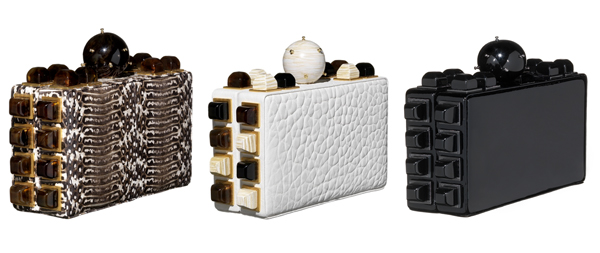 How adorable are these bejeweled mini-trunks? A box-clutch shape is nothing new, nor are studded embellishments, but Tonya Hawkes has managed to put a fresh spin on the age-old concept with her eponymous collection. With experience at Donna Karan and Furla, Tonya lives and designs her namesake collection in Bologna, Italy, where she has clearly developed an opulent yet well-edited Italian aesthetic.
Lacquered faux tortoiseshell suddenly has a fresh feel juxtaposed against brass hardware and soft skins – like shrunken lamb, watersnake, and patent leather – while the audacious multi-dimensionality of the geometric accents feels so now. Originally inspired by the box clutches of the 1950s, she's updated the ladylike style with a contemporary eye; these bags almost look like little toys. Which gets me thinking: what would be really fun is if you were able to pull off the studs and interchange them with different colors depending on your mood! (Or have I been playing Legos with my son too much lately?!)
The well-priced, mixed-material collection ranges from $1,080-$1,295. Inquire about Tonya's mini-trunks here: Tonya@tonyahawkes.com or call: +39 338 940 0690.
This post is also available in: Chinese (Simplified) Chinese (Traditional)