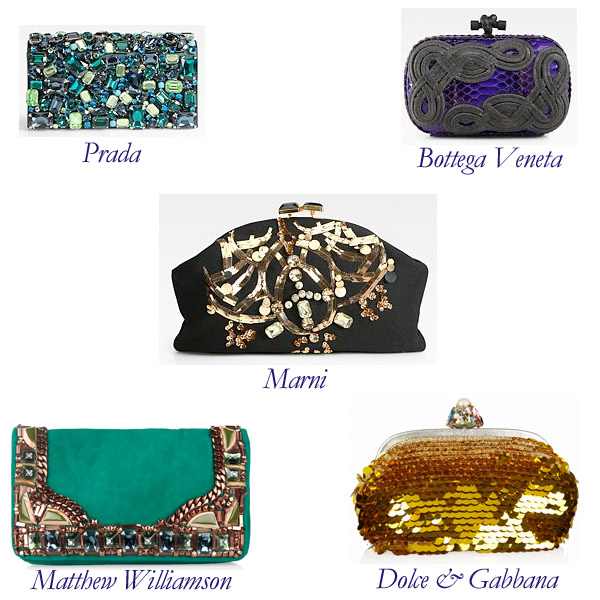 Fall brings early holiday parties, but it's also charity-event season, so you know what that means: it's time to update your clutch collection. When taking inventory to refresh your bitty bags, remember while sure, you need your basic neutrals, a few times of year, you ought to be jovial. Why not take the opportunity to infuse statement clutches into your wardrobe to keep you (and fellow event-goers) on your toes?
1. Prada Raso Stones Box Clutch: Bringing new meaning to the term "jewel box," this magnificent cluster is the most festive party favor I can imagine.
At Saks Fifth Avenue for $2,100.
2. Bottega Veneta Rope & Python Clutch: Dark and mysterious, I love the way electric-purple python dangerously peeks through tufts of knotted rope.
At Saks Fifth Avenue for $2,450.
3. Marni Embellished Clutch: Nothing says "party time" like an array of rhinestones and sequins that remind me of a burst of confetti and streamers.
At Saks Fifth Avenue for $1,150.
4. Matthew Williamson Embellished Suede Clutch
: Clusters of crystals and chains are fit for a queen against this royal shade of emerald. Tina may have ragged on Williamson's last clutch, but I'm loving his newly decadent vibe!
On Net-a-Porter for $1,615.
5. Dolce & Gabbana Paillette-Embellished Crocheted Frame Clutch
: An explosion of luscious sequins in this autumnal metal just can't be called fool's gold. This is the real deal.
On Net-a-Porter for $2,345.
This post is also available in: Chinese (Simplified) Chinese (Traditional)