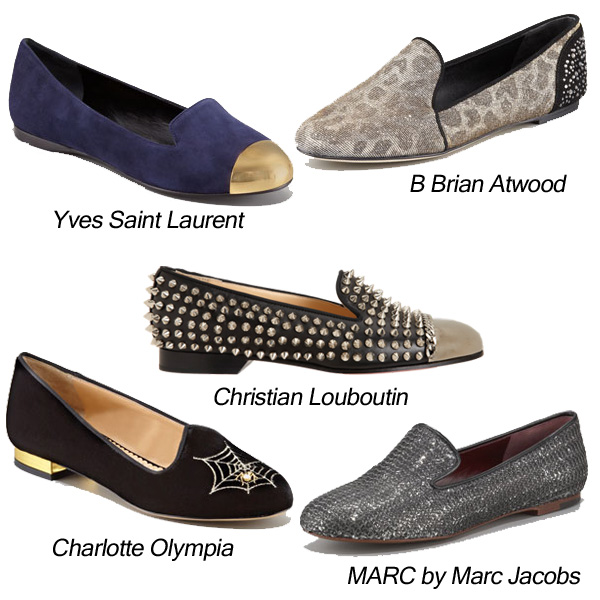 Sorry, Hugh! The Hef may run the Playboy Mansion, but he most certainly does not have the monopoly on comfy smoking slippers anymore. I've always known he's had a good thing going (and yes, I'm okay with going out in a smoking jacket, as well!). The smoking slipper, once a bedroom classic, is now a full-fledged staple. Everyone already has some form of them in their closet, but it's time turn it up a notch. For the holidays you've got to get fancy. Embellish and decorate yourself as you would your home, right down to your flats!
1. B Brian Atwood Metallic Leopard-Print Smoking Slipper: Sparkle, spots, and a good dose of contrast bring on the flash, for a slipper that's low on the heel and high on fun.
At Neiman Marcus for $295.
2. MARC by Marc Jacobs Brushed Sequin Slip-On Loafer: I'm loving the almost-mattefied sequins Marc by Marc has unleashed for fall, making for the perfect mix of laid-back and fabulous.
At Neiman Marcus for $250.
3. Charlotte Olympia Charlotte Spider-Embroidered Slipper: Who can resist Charlotte's web? This peaked cut is a seductive spin on the slipper that feels like a perfect autumn addition.
At Neiman Marcus for $650.
4. Yves Saint Laurent Metallic Cap-Toe Suede Loafer: Take your nightcap with a side of blue suede. YSL's flash of gold brings serious polish to an easy style.
At Neiman Marcus for $675.
5. Christian Louboutin Glitz Flat: The ultimate smoking slipper is hardcore. This is my favorite way to model Louboutin's eye-catching spikes – so much more interesting than an expected high-heel.
At Barneys New York for $1,295.