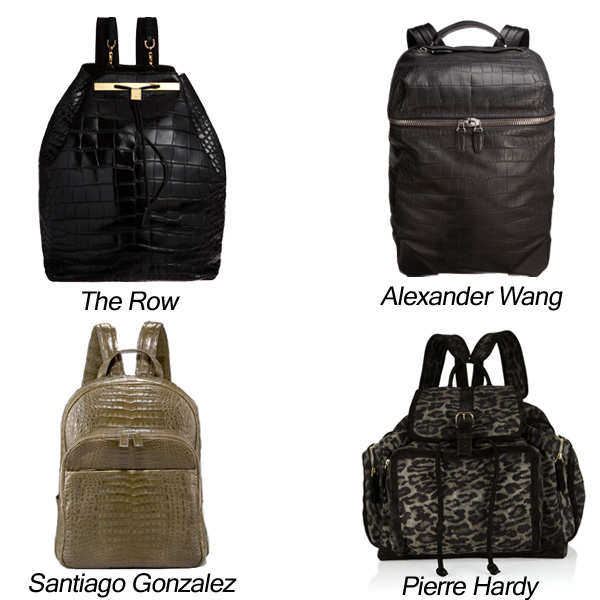 A whole bunch of backpacks were seen sported on the spines of fashionistas at Fashion Week in New York. A backpack in your arsenal is much-needed, for certain days when practicality must prevail (traveling, field trips, long walks, sight-seeing, and, yes, runway shows!). But hold off when you'll be making a ton of miscellaneous stops or on a shopping spree – getting things in and out of there is a pain. Forget about saving them for the kids; one that is all-grown-up exotic shows you have graduated from the school sack and you are not playing around here.
1. The Row Alligator Backpack: Speaking of not playing around, this serious slice of croc is so pricy, let's hope it's roomy enough to live out of. Thank god it's also seriously chic.
At Barneys New York for $34,000.
2. Santiago Gonzalez Crocodile Backpack: Technically, this one is for the boys, but the sleek, masculine shape would love even cooler on a glamorous girl.
At Neiman Marcus for $2,475 (from $5,500).
3. Pierre Hardy Leopard-Print Suede Backpack
: A little slouchier and a lot more playful, Hardy's multiple outer pockets will prove convenient when you're on the go.
On Net-a-Porter for $1,650.
4. Alexander Wang Croc-Embossed Wallie Backpack: The man who arguably started all is still banging out cool rucksacks, and I can't resist a good exotic stamping.
At Barneys New York for $1,175.