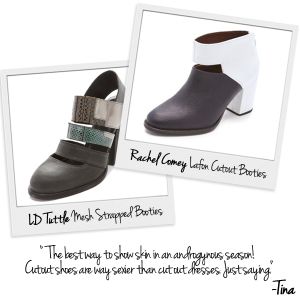 ShoeSnob says cutout booties are the best way to show skin in an androgynous season!
Bobbing for Front-Row Seats at FabSugar.
Ryan Lochte Apparently Thinks VERY HIGHLY of himself. At Fashionista
There are a few beauty products BeautySnob can not live without this season, two of them being CHANEL compacts– Lumieres de artifices and the Blush Les Tissages.
SNOB EXCLUSIVE! Mia Moretti x Pencey SS 2013- SNEAK PEEK at CoutureSnob.
Maybe she's born with it? Looking forward to seeing Freja a bit more as Maybelline Spokes-model!
Katie Holmes as the new face of Bobbi Brown
Kimberly Schlegel Whitman x Smocked Auctions: ENTER to WIN a FREE Peppermint Twist Holidaydress! At TotSnob.
Man Candy Alert: What the stylish dudes are wearing!
Maiyet continues to amaze and excite but this time it's with another type of arm candy the Maiyet Diamond Owl Cuff. At JewelSnob.