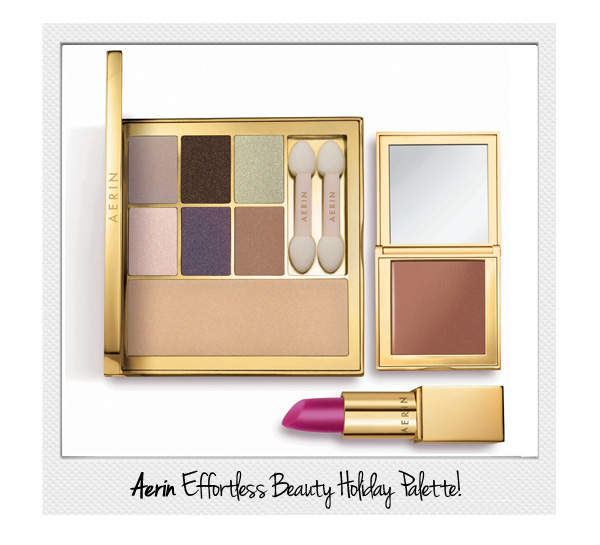 One of the best new beauty brands to hit the counters is from none other than Estee Lauder's granddaughter, Aerin Lauder. As Aerin often says, she's been in the beauty business since she was born, so it was natural that she'd launch her own line! I had a chance to preview Aerin Effortless Beauty's new holiday launch last week and am quite impressed with the palette "An Evening Out and An Evening In" — a subdued smoky eye with soft cheeks and bold bright lips. Much like fashion designers, the cosmetic heiress develops her beauty collection by studying trend reports, and creates each collection with color palettes in mind. These are essentials for the modern woman! The Holiday Style Palette ($70) contains six eye shadows and a quick-fix highlighter. The Color Collection also includes mini (clutch-friendly!) lipsticks and glosses ($30 each). Best of all, each of the products have Aerin's signature rose aroma!
Aerin's empire right now includes beauty, jewelry, and home goods, but she will be adding sunglasses and shoes for Spring 2013. Jim Lyle is designing the latter, making sandals, espadrilles, and heels – all priced under $400! Aerin tells me that a great pair of shoes perks up an outfit in the same way that a great lipstick brightens the face. Of course, I had to ask her if there were plans for bags. Aerin smiled, and said, "no plans as of this moment." But she was carrying the Hermes Bolide Bag in gris tourterelle. It's clear that she's a bag snob after my own heart! Check out what's inside her Hermes below. Such classic style!
The Aerin Holiday 2012 Color Collection will be available starting November 2012 at select stores and online at Aerin.com and Esteelauder.com.