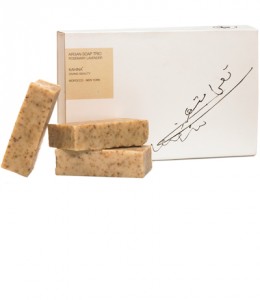 Have I been living under a rock? Here I thought argan oil was a hair savior meanwhile it can be used for pretty much everything from toning to hydrating skin – studies have shown that you can even eat it for heart-health benefits comparable to olive oil. After being introduced to Kahina Giving Beauty, a holistic line of organic skin care based on argan oil, I did a bit of research on the topic. The idea is that argan oil's nutrient-rich composition, which includes a high concentrations of nutrients and essential fatty acids, can have anti-inflammatory properties when applied to the skin. Dermatologists however are split on the topic with some claiming that unless there is some sort of a chemical carrier, the oil will just sit on skin. Others claim that unlike other oils, argan can penetrate the skin naturally.
After using one of Kahina's soaps I'm prone to believing the latter. The skin care line is made with certified organic argan oil sourced from women's cooperatives in Morocco. Everything is made with ethically and sustainably sourced raw materials, all products have certified natural and organic formulations that incorporate organic materials whenever possible, packaging is made with recycled and recyclable materials, and the company makes donations to the women who work to provide the raw materials to make all of their products…how's that for a guilt-free beauty buy?  The soaps are incredibly moisturizing – both immediately when you're washing yourself with them and after you've towel-dried yourself off. The soaps can also double as a mild exfoliator because they've got coarse rosemary particles.
What's your take on argan oil? Have you used any argan-based skincare products?