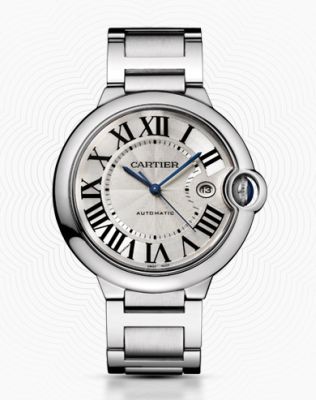 I love this watch! I received it as a very special gift from my husband. This is the large model, but of course, there are tons of different options and ways to customize your own (steel chain vs. leather strap, gems, etc.). It's beautiful stainless steel and looks very classic with the large Roman numeral markers, but it also has subtle pops of color in the blue sword-shaped hands and the sapphire crystal.
Sadly, the watch does not keep good time. Sometimes fashion over function is an appropriate mantra, but when it's a watch, the function really has to come first. I know that Cartier is not known for their precision, but still, my watch is so off that it has become useless. I have to look at my iPhone to make sure I'm not late all the time. It's an automatic, so I need to wear it constantly to keep it ticking. I do take mine off when I shower, but that's only like 5-10 minutes! Movement should still work after such a short break, yet it doesn't. They designed it to be water-resistant, not waterproof, so this really should have been accounted for. The watch goes off by 10 minutes a day until it is so wrong that I'm completely confused. I don't even look at it anymore. It's now just a showpiece, which for the price is ridiculous. What's more ridiculous is that taking it back for a repair would cost $500! Isn't it Cartier's fault for making a bad watch? Just for the inconvenience of not knowing what time it is and for having to take it back, Cartier should be paying ME! I still adore and will continue to wear it, but I have to give warning before recommending it. I know other people with this watch, and we all have the same problem!!
Available at Cartier for $6,200.