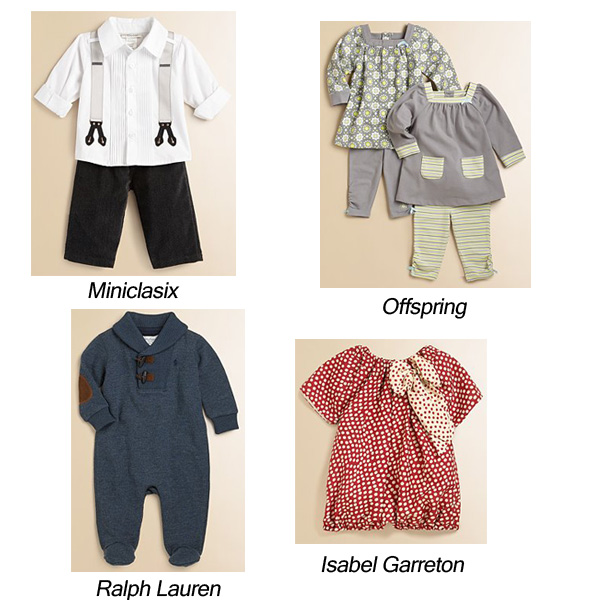 It may be prime full-priced purchasing time for us grownups, as we assemble the last of our new fall-wardrobe pieces, but when it comes to our tots, Saks Fifth Avenue is inspiring a one-stop shopping frenzy! The sale has struck, which means you're due to stock up. This is super-cute stuff – you really can't go wrong – but I've narrowed it down to my very favorites of the sale:
1. Isabel Garreton Infant's Silk Polka Dot Romper, $82.50 (from $110): This playsuit is too adorable for words. Contrasting polka dots, a big, floppy bow, and bloomer-style shorts…I can hardly stand it.
2. Offspring Infant's Two-Piece Limeade Geo Tunic Set, $25.50 (from $34) and Leggings Set $18.75 (from $25): Talk about dressing made easy. Comfy, cotton tunics and mix-and-match leggings are the way to go when it comes to everyday outfits.
3. Miniclasix Infant's Dress Shirt & Velveteen Pants Set, $42 (from $56): Black tie without the black tie? And some clever Pop-Art inspiration, to boot? Genius. It's ensembles like these that make me wish I had a boy!
4. Ralph Lauren Infant's Fleece Coverall, $33.75 (from $44): Cotton fleece, patch pockets, toggle closure, and a shall collar: this is quintessential autumn and an essential infant staple.