There are a few brands that I consider my mainstays, and Burberry is definitely one of them. I mean, a girl cannot have enough Burberry trench coats (coated canvas, quilted, leather, studded, metallic – I have all of them!), boots, scarves, sharply tailored clothes, or perfectly fitting sunglasses. All are easy, chic pieces that I can pull on quickly, and leave the house without a second thought. Since I like my beauty products to be just as effortless, Burberry Beauty has become the latest of my obsessions. I was invited to partner with InStyle Magazine and Burberry to launch their beauty event with InStyle Style Ambassador Tai Beauchamp and Burberry's National Makeup Artist at Nordstrom in NorthPark Center tomorrow. Never one to miss a chance to play with makeup and party at a beauty bash, I readily accepted.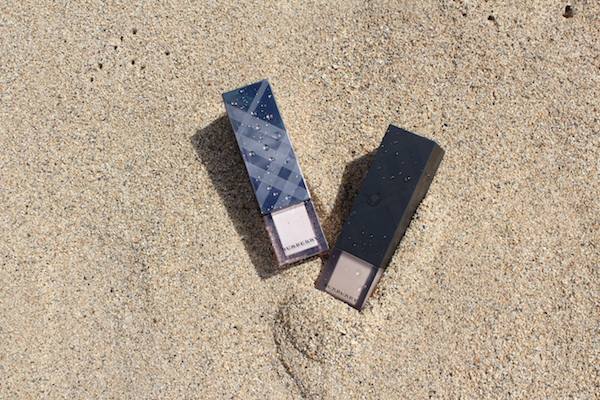 To prepare me for this awesome gig, Burberry sent a few samples last week to try out, and I liked them so much that I brought them to Hawaii with me (I am blogging from the beach right now, as a matter of fact… gotta love technology!). I had not tried Burberry Beauty products before and loved the sleek packaging on sight (in the beauty business, what's on the outside is just as important as what's on the inside in my opinion!). After a week of playing around, I have identified my can't-live-without-products – the Fresh Glow Luminous Base $48, the Velvet Foundation $54, and the Lip Velvet $30.
I came to these final choices by experimenting with the products, and mixing different looks together. When trying new makeup, I always apply them on my wrist first. It's the best way to see how it will look without running the risk of irritation. I applied the Fresh Glow and Velvet Foundation separately on my wrist, and then blended the two and applied on my other wrist. It's good to play around with makeup to see what really works for you! Have you ever asked your friend about her beauty products, and then tried them for yourself to complete and utter disappointment? No two people are the same, and that's important to remember when creating your personal beauty routine. For me, the blending the two products was the best and most natural look. A drop of Fresh Glow mixed with two drops of Velvet Foundation, and I swear my skin was flawless (see below: no Photoshopping has been done on any of my photos – that's just how my skin looked after using the products!).
I am also now a Lip Velvet addict. It is one of the smoothest semi matte lipsticks I've ever tried, and it glides on so well! True to its "Long Wear" title, it lasts for hours without bleeding. I applied the lipstick directly on my lips first, filling in as much as I could without going outside of the lip line. Then, I used a lip brush to define the lip line (way more natural-looking than lip liner if you ask me). I was sent three different Lip Velvet colors – Pink Rose 307, Pink Azalea 308, and Bright Poppy 311. Pink Rose will be flattering on most skin tones and perfect for daytime. If you like a more dramatic lip, I suggest the Bright Poppy 311. It's a pigmented berry color that will last through a night of dining and dancing with minimal touch-ups!
But don't just take my word for it. Come to the InStyle Beauty Event on Wednesday, and see for yourself! I'll be there, and though I am no National Makeup Artist, I apply a mean lip without lip liner!
InStyle and Burberry plan to pamper and prep us for fall with customized makeovers and a fashion & beauty trend presentation from Tai. Plus, we'll receive copies of InStyle's book – The New Secrets of Style – and beauty treats from Burberry with qualifying purchases (*while supplies last – I will be there at 5 p.m. sharp and suggest you do same!). Sounds like a fun party, right? So, don't wait – RSVP now!
Date: Wednesday, October 17th
Time: 5-8 p.m.
Place: Burberry Beauty counter at Nordstrom in NorthPark Center
RSVP: InStyle_Burberry@Timeinc.com
If you can't make it, you can still see all the action by following me on Twitter here – I'll be posting photos and updates live from the event. Plus, check back here on Friday to read all about the event and find out how you can win a special Burberry prize package!
Fresh Glow $48

Velvet Foundation $54

Lip Velvet $30

 I am wearing Burberry Fresh Glow luminous base blended w/Burberry Velvet foundation 203 & Lip Velvet 308 in Pink Azalea. 

Photo Credit: C.D. Craig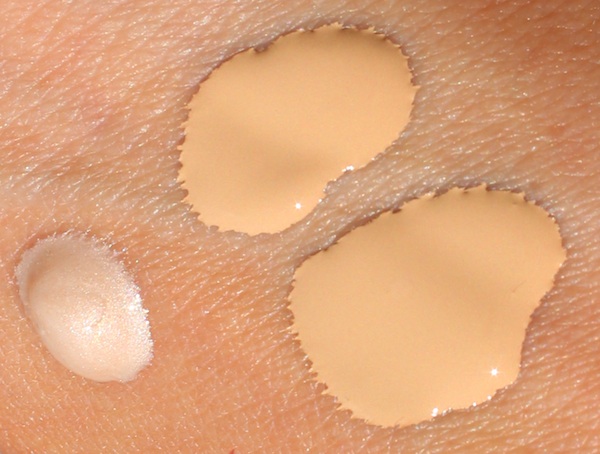 One drop of Fresh Glow luminous base mixed with two drops of Velvet Foundation (I wear Trench 203, a very neutral shade) is all you need for a flawless day time look (don't use more than one drop during the day, the goal is a fresh glow, not a shiny mess). For day to evening I mixed another drop of Fresh Glow with an equal sized drop of Velvet Foundation and applied over what I already had on. If your face is clean, do two drops of Fresh Glow to three drops of Velvet Foundation for an added glow and coverage.

                                                                                Burberry Lip Velvet 307 in Rose Pink

                                                                                 Burberry Lip Velvet 308 in Pink Azalea

                                                                             Burberry Lip Velvet 311 in Bright Poppy


Touching up beachside before heading to cocktails with Burberry Lip Velvet 311 in Bright Poppy.