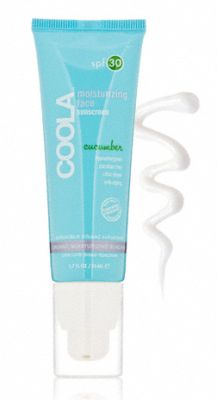 My compulsion to constantly apply sunscreen continues, and what better place than Hawaii to fully engage in this unadulterated obsession? Hot, humid weather means that I'm already sweaty and slick, so the last thing I want is a greasy sunscreen that leaves me shinier than an oiled up body builder. A totally matte sunblock that goes on silky smooth, yet has all the protection I need is an exciting find!
COOLA not only protects and soothes, it prevents aging and nourishes with 12 certified organic extracts like cucumber, clove, and primrose. The SPF 30 formula stimulates cell growth and tightens loose skin without any irritation. The cool cucumber scent of the facial sunscreen is just what I need to keep me feeling refreshed. The only downside is that it makes me crave an equally refreshing drink that has quickly become my new favorite here in Hawaii – a delicious cocktail mixed with lemongrass vodka, coconut water, and muddled cucumber with a squeeze of lemon (yeah, that got me in trouble FAST with how easily it goes down).
Available on Dermstore for $32.