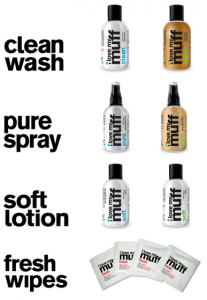 I spotted I Love My Muff on a recent Henri Bendel shopping trip and a few of their products were on sale so I figured…why not try!? In theory the brand is very similar to Sweetspot Labs, a company whose products I often use, but unlike Sweetspot they are not made with artificial fragrances. Luckily Sweetspot's wipes and sprays have never irritated me, but artificial fragrances are a very, very common irritant so it's not necessarily something you want to be spraying down there if you're even mildly sensitive.
I Love My Muff makes individually wrapped wipes (I like them better than Sweetspot's because not only are they moister, but because they come individually wrapped they don't dry out like the Sweetspot 30 and 7 packs are prone to), lotions, washes, and sprays. All of the products are made with natural plant extracts and pure essential oils and they're all vegan, free of parabens, SLS, synthetic colors, fragrances, and handmade.
Products come in either "Blue" (lavender, sage, and patchouli) or "Green" (vanilla, grapefruit, and ylang ylang), iterations and you can get detailed ingredients lists on the company website. Kudos to any brand that is so clean that they can proudly display all of their ingredients! You can learn more about the benefits of I Love My Muff's ingredients here.