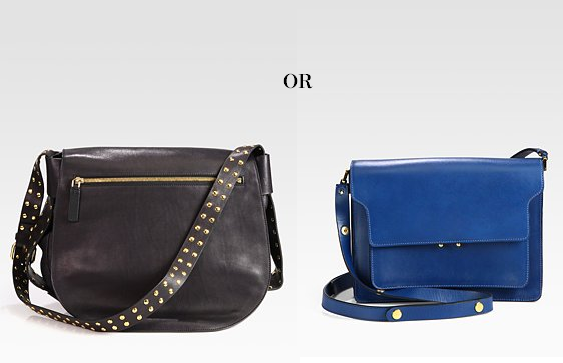 There are so many good Marni bags this season, I just can't decide. The Signature frame with its laser-cut dots is so super-cute, but something more solid is calling my name. My two final candidates: the studded shoulder bag ($1,760) and the multi-compartment satchel ($1,570). What it really comes down to is if I'm going to suddenly get all OCD. If so, the hyper-organized interior of the multi-compartment satchel is just the ticket to satisfy my neurosis – and (maybe) save time spent shuffling.
The shoulder style is easy, pragmatic, and made for the everyday. Then a strap-full of studs gives it some character, making it an obvious choice…But it's also not as exciting as its blue rival. That soothing shade of the compartment-loaded bag obviously tugs at my heartstrings, and the flap is minimalist-cool, especially with a pleasing pocket underneath it (a detail I always enjoy). But it could go two ways. The good: I will be inspired to be organized, with each possession in its own particular place. Or the bad: all those compartments will just frustrate me when I can't remember where I put everything. Either way, curvy smoothness versus subdued color is a tough call. So which one do you think I went with? All available at Saks Fifth Avenue.
And, to show you how irresistible Marni is this season, especially when it comes to studs, a second duo of options for your fickle pleasure. The Studded Frame bag ($2,520) is unfussy polish as its most accessible, while the Embellished Structured Top Handle ($1,220) plays the role of rebelliously chic little sis brilliantly.