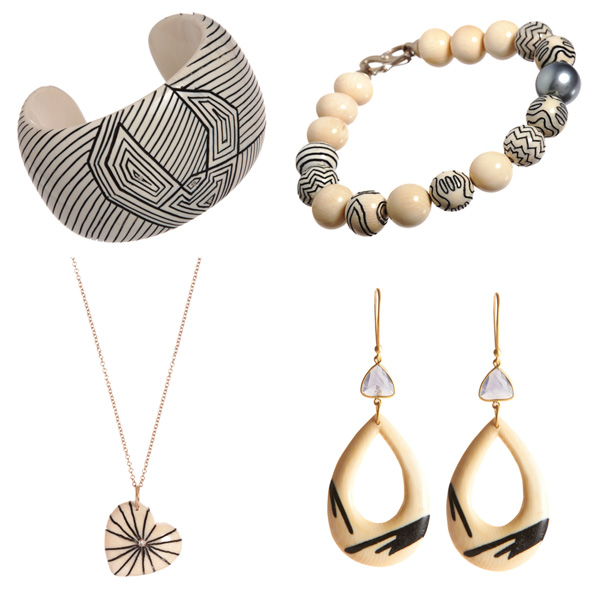 A CFDA/Vogue Fashion Fund award winner in 2009, Monique Péan was a finance exec who was once obviously out of her element. Her talents clearly lie in jewelry design, and she excels in her industry by creating organic designs using only eco-sustaining materials, such as mammoth bones and the like. Sound contradictory? Here's how she does it: the fossilized wooly mammoth and walrus ivory used in her pieces is sourced from indigenous Alaskan Natives who collect material from the Arctic Circle. Péan also guarantees that her diamonds are conflict free and all of her metals are recycled.
My favorites from her collection are these inlaid pieces that have striking graphic looks. Instead of the graphics that we're used to in the Digital Age, these pieces have a natural and organic feel that is charming and incredibly sophisticated, not to mention bold and statement making. The hexagonal scrimshaw designs on the wooly mammoth cuff ($4,710) show the imagery I'm talking about. And there's an added bonus – the cuff is inlaid with diamonds! The wooly mammoth and Tahitian pearl bracelet ($2,255) also has some intricate scrimshaw engravings on a few of the beads, and is finished off with a singular gray pearl. The use of recycled gold is displayed on the iolite and wooly mammoth pear-shaped earrings ($1,950), as well as on the wooly mammoth heart pendant necklace ($1,420). The ivory in both of these pieces was hand-carved by master craftsmen in New York City.
The collection is available at Barneys New York.