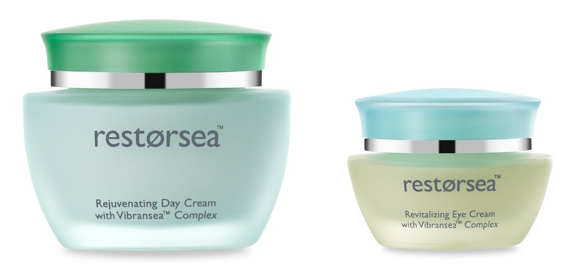 I was sent lab samples of Restorsea a month ago. After reading about it in ELLE, I had very high expectations of the natural enzymes used in the cream. It's the first product to use Vibransea™, a proprietary complex containing a natural enzyme that is released during Norwegian baby salmon hatching. It boasts the same strength and results as glycolic acids without the harsh side effects. Restorsea founder Patricia Pao discovered the complex in 2010 when she was on a tour of Norway's biggest salmon hatchery. She was taken aback by how the hands of the workers there looked significantly younger than their faces, and as a beauty industry vet, she eventually realized that it was a result of the exposure to the salmon hatching fluid!
This super hydrating balm claims to improve radiance, elasticity, and smoothness. In the morning following my first use of the rejuvenating day cream ($150), my skin felt like it had a velvety coating over it and was slightly oily. I have used it twice daily with my regular routine for 6 weeks now. At times, my skin would tingle and I would experience a bit of sloughing and skin peeling, but I never had rashes. Not even the eye cream ($85) caused any reactions around my eyes (and I have very, very delicate skin). This cream is perfect for sensitive skin! The most remarkable change is the texture and brightness I saw after only one month. I even put a bit on my heels right before I went to Hawaii, and could not believe how soft they became after one use! I now use the eye cream only at night and the face cream both night and day. It's truly an amazing cream, I've even turned my close friends on to it– including celebrity stylist/designer Jeanne Yang who is now as obsessed as I am! I also use the day cream on my neck and chest and am tempted to try it all over my body. I mean, what's good for the face must be even better for the bum, right?
Restorsea is available on Restorsea, and will be at Bergdorf Goodman later in the month.