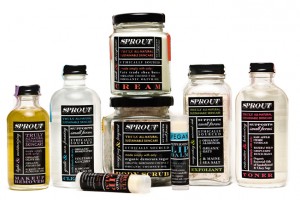 I initially heard about Sprout Skincare via GOOP. Turns out Gwyneth Paltrow is a big fan of the Brooklyn-based brand that makes all of their products by hand in small batches. I figured if it was good enough for Paltrow's highbrow taste it was certainly something worth looking into and the more research I did, the more in awe I became. Sprout literally started in owner and founder Adina Grigore's kitchen (she has a background in holistic-nutrition), and everything in the line is made up of ingredients that you could conceivably find at your local market! She makes all of the products weekly using no more than five ingredients and packages them in super cute glass jars. All ingredients and packaging materials support local, sustainable farms and most are organic (all are fair-trade).
I love the graphic bold labels and that each of the seven products clearly list out what they contain – beauty product labels may be the only ones more confusing/borderline deceiving than food labels these days, so it's refreshing to have a brand be this transparent. The line also goes to show how "easy" it is to make your own products. I'm not one to play mad scientist at home and Sprout's packaging is half the fun, but the body scrub, for example, is made exclusively with demerara sugar, extra-virgin coconut oil, and shredded coconut.
The line includes: a cleanser, a toner, makeup remover, lip balm, exfoliant, face cream, and a body scrub.