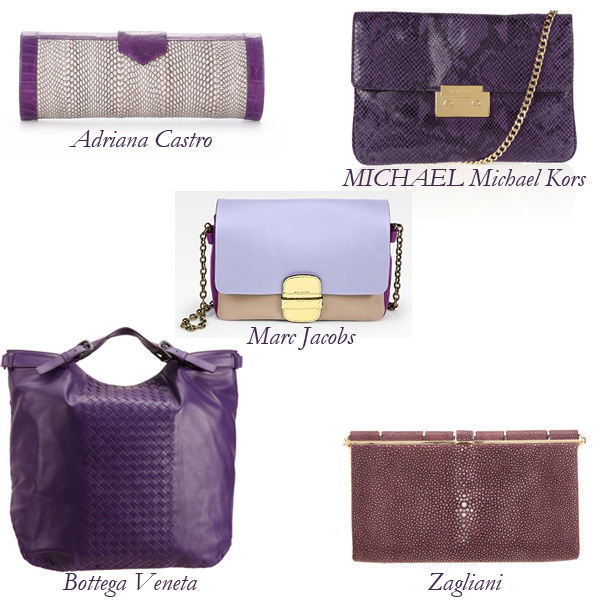 In case you haven't heard, what with all the recent buzz around ebony and oxblood, purple is huge this season. And shockingly versatile. Not only is it the color of royalty (and the inimitable Prince), it's one of the snobbiest shades of Fall '12. Whether you go big and bright or settle on a subtler lavender, this is a color you need to get your hands on, pronto.
 1. Adriana Castro Ella Clutch: What's more entrancingly exotic than crocodile? Croc combined with wild-child cobra skin. It's merely piped with purple, but this clutch is fit for a queen.
At Adriana Castro for $995,
2. MICHAEL Michael Kors Sloan Python-Effect Glossed-Leather Clutch
: When rich purple takes over, royalty knows no bounds. The look is exclusive; the price is not.
On Net-a-Porter for $220.
3. Bottega Veneta Large Leggaro Intrecciato Messenger: There is something so absurdly decadent about a Bottega messenger bag in splashy violet – in a most timeless and practical way.
At Barneys New York for $2,680.
4. Zagliani Shagreen Faye Clutch: Part of the beauty of purple is that it comes in many shades and forms. Zagliani's muted plum allows you to seize captivating texture, without committing to an in-your-face hue.
At Barneys New York for $2,950.
5. Marc Jacobs Brighton Flap Shoulder Bag: Ooh la-lavender! Somehow the term "colorblocking" doesn't do this trio justice. Grab this number on those gloomy days when you're in need of an uplift.
At Saks Fifth Avenue for $1,595.
This post is also available in: Chinese (Simplified) Chinese (Traditional)