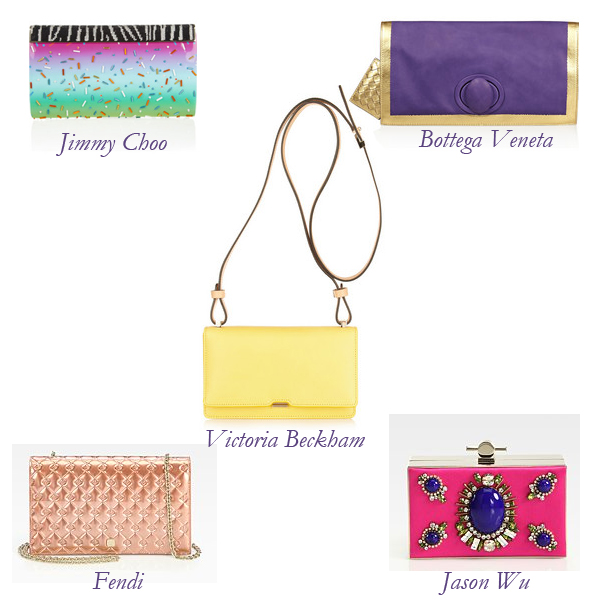 With all the ghastly ghouls roaming around out there tonight, there's enough scariness going on for one day. I'm countering it with a choice selection of bags yummier than a grocery-aisle's worth of Halloween candy. Ask any snob, and you'll get the same answer: she'd rather have a fun bag than a fun-size chocolate any day. Well, almost any day…Happy Halloween!
1. Fendi Fendilicious Metallic Patent Leather Clutch: Fendilicious is the perfect name for this netted clutch that brings to mind satin pillowcases, decadent bonbons, and all the finer things in life.
At Saks Fifth Avenue for $890.
2. Victoria Beckham Leather Shoulder Bag
: Lemondrops, please! Who needs a shot at the bar when you have a shot of color so hot it needs a nude shoulder-strap to tone it down? I'm already tipsy.
On Net-a-Porter for $1,250.
3. Jimmy Choo + Rob Pruitt Cayla Embellished Patent-Leather Clutch
: Rainbow sprinkles and Italian ices may seem juvenile; that is, until you eye them on your almost-edible clutch.
On Net-a-Porter for $1,350.
4. Bottega Veneta Hand-Painted Waxed Leather Clutch
: I love anything wrapped in gold foil, but a Bottega trimmed in hand-done gold paint is simply irresistible. This is a royal pairing deserving of a red carpet.
On Net-a-Porter for $1,400.
5. Jason Wu Karlie Embellished Satin Box Clutch: Goody gumdrops! I mean, how can this Rococo-inspired sensation of cobalt stones and pink satin not give you a sugar rush? Without the guilty conscience afterwards.
At Saks Fifth Avenue for $2,195.