After reading Zadig & Voltaire founder Theirry Gillier's racist quote in WWD that his new posh and exclusive Parisian hotel will not be open to Chinese tourists, I tweeted this- "I (along w/all Chinese) am not welcome at Zadig et Voltaire hotels, so I'll stop shopping there." and posted it on my WeiBo.
Since then, my tweets and WeiBo posts regarding this have been mentioned in different publications and discussed in classes in French universities (happy I am doing public service beyond handbag obsessing!) The UK Telegraph reported yesterday that Thierry Gillier apologized for his remarks and claimed that they were taken out of "context" (John Galliano pleaded the same by the way). I am not surprised that he apologized (I mean, alienating 1.3 billion people is not to the best interest of his brand) but am very surprised that WWD changed his published quote from "Chinese tourists" to "busloads" of tourists at Gillier's request. Look, we all say stupid things to the press at times, myself included (especially myself I should say!) but to change the published quote (online) after he admitted to saying it, is completely against journalism ethics! I have always held WWD in the highest esteem and this is disappointing to say the least. The WWD print version (above), however, remains the same (thank god for print!!!).
Despite his apology, I plan to refrain from buying anything at Zadig & Voltaire ever again. However, I do plan to go to the Zadig & Voltaire hotel when it opens in Paris. I will sit in the lobby (with a bottle of champagne, natch) wearing a t-shirt that says "CHINESE TOURIST".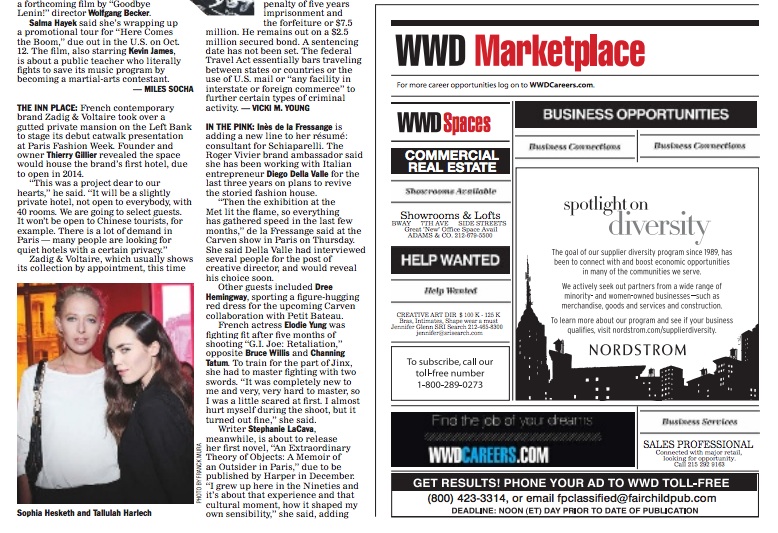 This post is also available in: Chinese (Simplified) Chinese (Traditional)