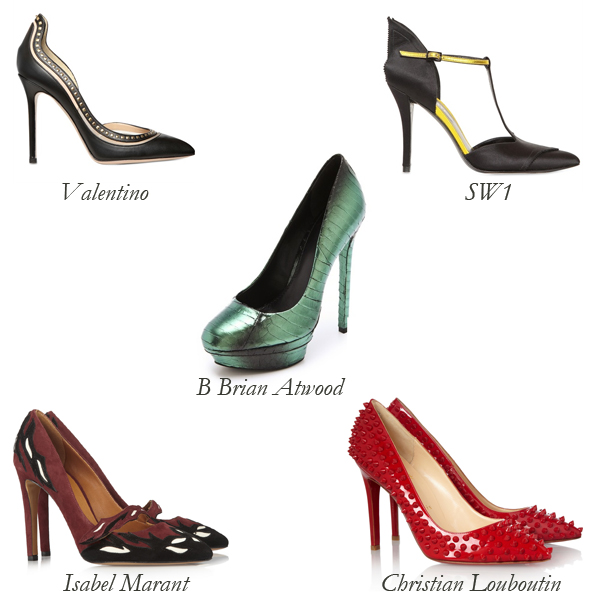 Your look only needs the smallest of details to go from minimal to phenomenal. A handful of studs or dash of bright color! After all, screaming statement pieces aren't often worn together. Incorporate your voice into your pumps. Pumps are absolute mainstays (and great for times when your pedicure needs a serious pick-me-up!). I am loving wearing them with skinny jeans. The super-slimming effect is my go-to look at the moment. With a basic tee on top, it's the perfect effortless style.
B Brian Atwood Fontanne Iridescent Pumps
: For the sci-fi fan in me, this alien scale (spoiler alert: snakeskin) is literally out of this world! The cosmic purple is stellar, but I plan to slip my toes into the green creature from the black lagoon pair.
On ShopBop for $340.
Valentino 100MM Calf Microstuds Pointy Pumps
: The ladylike d'orsay gets a heavy metal jump. Trimmed in mesh and Valentino studs, these looks could kill.
On Luisa Via Roma for $949.
SW1 100MM Satin Neumercury Pumps
: Get some flare with flair! These sassy Hermes-style (the Greek god, not the fashion god) numbers will get you more wear than expected.
On Luisa Via Roma for $637.
Isabel Marant Kyle Suede Pumps
: Officially obsessed! A little bit country and a little bit rock and roll…That song was about Isabel Marant, right?
On Net-a-Porter for $990.
Christian Louboutin Pigalle 100 Spiked Patent-Leather Pumps
: Fun-loving all the way! Too much, you say?Refer to above about simple jeans and tee look. Easy peasy, these will be your main squeezy.
On Net-a-Porter for $1,195.