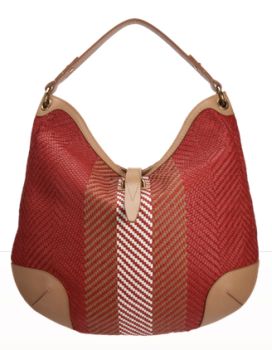 Belstaff came back with a bang this year, and with a focus on their biker roots, they turned out the hardware and turned up the heat. But it looks like they are already applying a softer touch – and I'm appreciating it. There is a rare seductive ease about the Crosby hobo.
The shape is inviting and classic, though it's not without some spice. The multi-directional weave (it almost takes a herringbone effect) alerts and fascinates the eye, and adds a sense of richness to the already-sumptuous texture. Can you believe it's a 100% leather, from top to bottom? Such a tiny, precise weave of skin is incredible – and it accounts for the price tag. Make no mistake: this is a worthy investment. Looks like the color "racing red" suits them well – this is a bag you will appreciate forever.
Available for pre-order at Barneys New York for $2,695 (expect delivery in February).
Pair with: Marni's black-and-ivory cropped leggings might read unexpected, but that's part of the fun. Plus, the thick stripes mimic the lines on the bag in the most subtle of ways. On Ssense for $550.