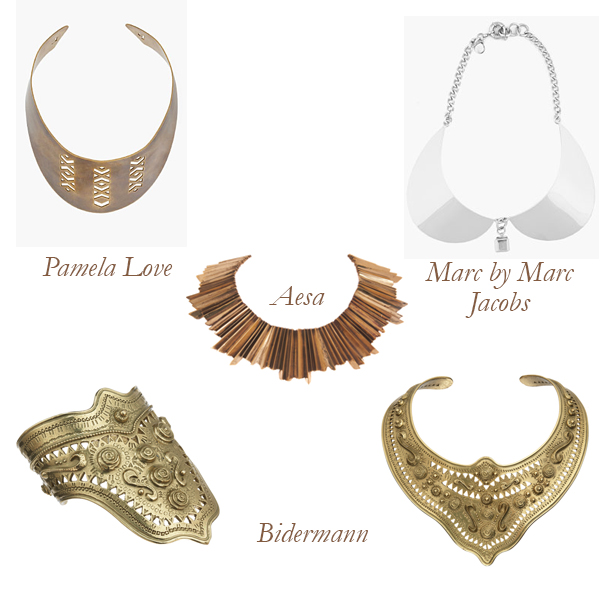 There's a sense of old world glam with large brass jewels. They're the kind of pieces that graced the necks and arms of Ancient Egyptian royalty who sought to show off their wealth and power. Reminiscent of armor (just not as backbreakingly heavy!) like the kind Joan of Arc would have worn, these statement cuffs and collars are only for the strong. Here are the best heavy metals:
Pamela Love Brass Cutout Collar: Simple, yet elegant, this structured collar is detailed with patterned cutouts and adjusts to fit perfectly around your neck.
On Ssense for $445.
Marc by Marc Jacobs Silver Peter Pan Collar Necklace: A Peter Pan collar and dangling charm lend some sweetness to this silver-toned jewel. Where it over a collarless dress for a nice effect!
On Ssense for $330.
Bidermann Bronze Mharaja Cuff: Elaborate detailing and cutouts make this cuff fit for a mharaja or his beautiful mharani.
At Barneys New York for $643.
Bidermann Bronze Mharaja Breastplate Necklace: Can't you see Cleopatra in this?? A breastplate for a warrior queen (and a fashion queen)!
At Barneys New York for $912.
Aesa Brass Large Victorious Collar: Aesa is the Greek word for destiny, and I think I've found mine! The brand uses only Ancient Greek and Roman techniques, giving this collar a more authentic feel.
At Barneys New York for $1,255.