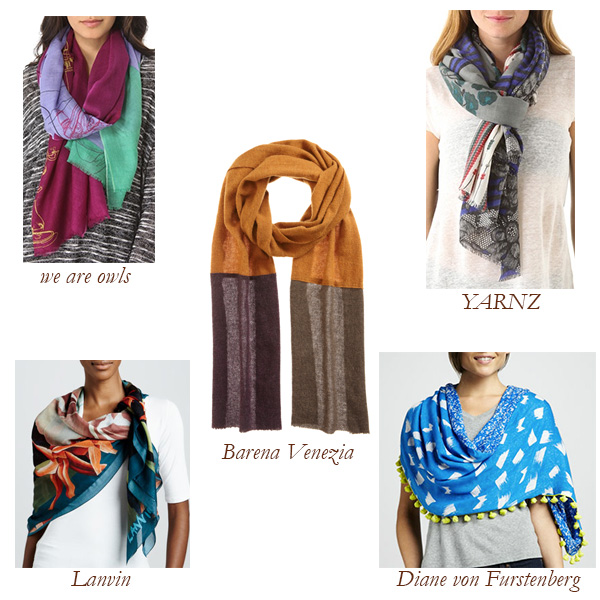 Think of when you're all wrapped up under cover in cold weather – what's the one accessory still showing? Your scarf! So you'd better make it a good one. Scarves are the best way to dress up casual clothes, even your gym gear. And if you're a working mom, you appreciate the importance of feeling a little put together, even if all you have time for is sweats. Add color and pattern with my top picks:
Lanvin Fleurs Cotton Scarf: The weather outside may be frightful, but you're from where you're standing, it's delightful – wrapped in tropical print!
At Neiman Marcus for $395.
we are owls The Room Scarf
: I love when there's something secret about what you're wearing. If you lay this scarf down out, you'll see the jumble of color and shapes actually forms a room.
On ShopBop for $175.
YARNZ Lace & Stripes Scarf
: Lace is probably a little too thin for cold weather, but lace print? The perfect compromise between Jack Frost and fashion.
On ShopBop for $205.
Barena Venezia Tri-Color Segmented Scarf: Everyone needs a simple wool scarf you can throw on most anything and run out the door – just because it's winter doesn't mean your schedule will slow down!
Exclusively at Barneys New York for $165.
Diane von Furstenberg Brushes Fleck-Print Pompom Scarf: Wrap yourself in the sweet taste of India with DVF's fanciful circle scarf. Pompom trim'll keep you peppy!
At Bergdorf Goodman for $185.