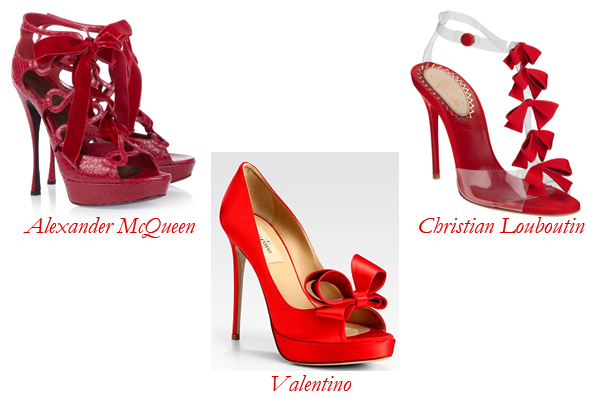 Okay, Halloween may have been just last week, but I already can't wait for Christmas! I am always open to receiving early Christmas presents! And when it comes to presents, it's all about the wrapping. These rich-colored red bow pumps will get you in the spirit to carol all night long (as long as you don't have to stand the whole time!). Depending on the style, bows can be sweet or sexy, so whether you want on the nice list or the naughty list, you'll be wrapped and ready!
Alexander McQueen Lace-Up Snake Sandals
: A lush red velvet ribbon ties this romantic look together! McQueen's dark lavishness comes complete with a striking silhouette. On Net-a-Porter for $2,075.
Christian Louboutin Bow Bow: While the bows here aren't what keep the shoe together, they are what set it apart. These heels are available in black, but red and gold are classic Christmas. At Barneys New York for $1,195.
Valentino Satin Couture Bow Pump: Wrapped in warm red satin, these sexy va-va-voom Valentinos are the gift that keeps on giving! At Saks Fifth Avenue for $745.