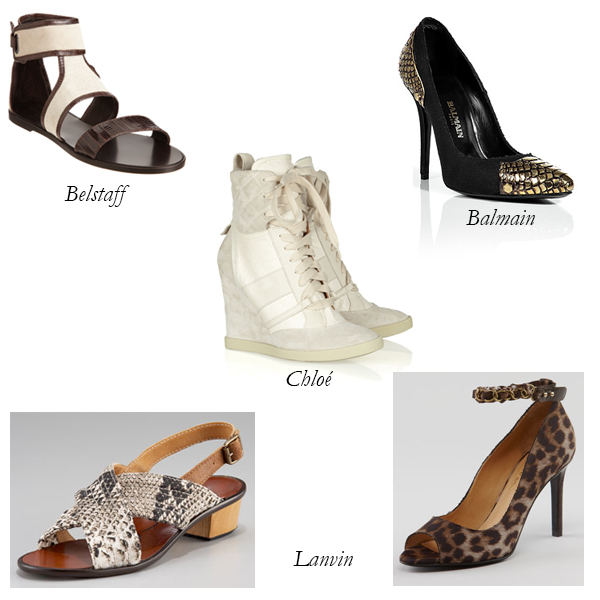 Already making your mental packing list for your holiday getaway to the Bahamas?! Don't forget to bring a pair (or two!) of perennially chic canvas shoes. Pair the sensible fabric with flashy exotic skin and you have a tropical treat that appeals to your sense of style and simplicity. Whether it's the real deal or embossed, the combo will create a nice contrast.
Belstaff Lilley: Belstaff is firing on all cylinders right now, and I love it! The snakeskin embossed leather is so subtle blink and you might miss it – perfect for a casual fashionista lounging on the beach.
Pre-order at Barneys New York for $995.
Lanvin Ostrich-Trimmed Leopard Canvas Pump: The sexy leopard print will grab their attention, but the textured ostrich heel will keep it.
At Neiman Marcus for $1,190.
Balmain Black Canvas Pumps: The kind of shoe that you can barely even tell is canvas. Probably because the dramatic brass python detailing is stealing the show!
On StyleBop.com for $870.
Lanvin Crisscross Slingback Sandal: 70% off their original price, these slingbacks are the perfect easy beach sandal – slide them off when you reach the sand, and sink your toes in!
On Last Call for $185.85.
Chloé Suede and Watersnake Wedge Sneakers: Think Beyonce courtside at the Brooklyn Nets! Classic off-white kicks made upscale with watersnake and warm suede.
On the Outnet for $318.