This is one of my favorite pieces from Coomi- 52 delicate bangles symbolizing each week of the year.
I fell in love with the exquisite collection of Coomi Jewelry at Stanley Korshak yesterday made of ancient Roman glass. I love jewelry that are both symbolic, beautiful and transcends time! 2,000 years, to be exact. Yes you read correctly, TWO THOUSAND YEARS! The incredible ancient glass (including a gorgeous bottle) were unearthed on the Silk Road and restored by Coomi. I have never seen anything like this! I thought they were sliced precious stones at first, the pieces danced in the light and had a gorgeous translucent quality to them. The layers of brilliant colors were gradually created over thousands of years as part of the glass's chemical reaction to the sun, the water and the mineral rich earth in which it was buried. Incredible, right? I thought so! Each piece was carefully thought out by Coomi before designing– her signature paisley pattern (symbolizes life and eternity) is seen on almost all of them. I tried a few pieces on and felt this incredible energy emanating from the glass. I hope my photos do them justice, but you must go see them for yourselves at Stanley Korshak in Dallas, Neiman Marcus and Saks Fifth Avenue! Complete list of locations here.

This glass bottle may have been used for fragrant oils. It has calcified with time with color and minerals over it. The incredible chain is made of teal colored diamonds and 20kt cold. Amazing!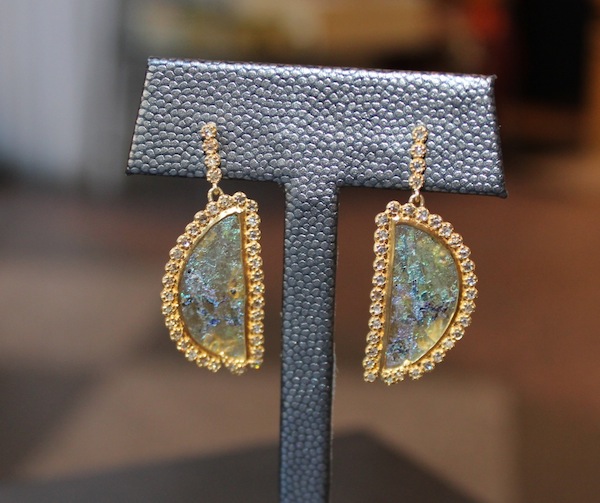 These earrings remind me of the ocean, see the layers of color shining through?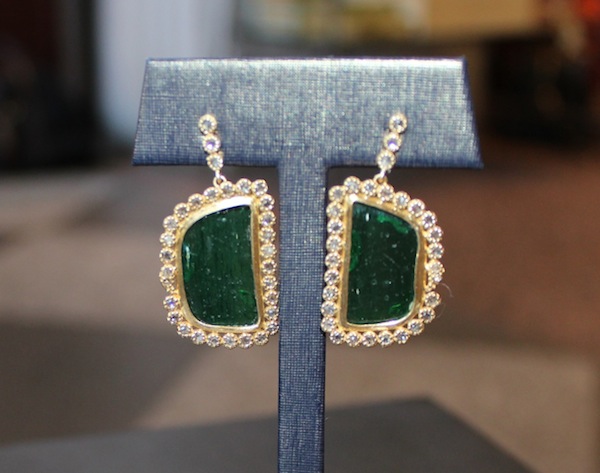 I thought these were emeralds at first! Absolutely breathtaking! 

This delicate bracelet is perfect for daily wear- love the silk cord finished with diamonds. $3,250.

Obsessed with this bracelet! See the paisley detail on the sides of each piece?! And the clasp, so beautiful!