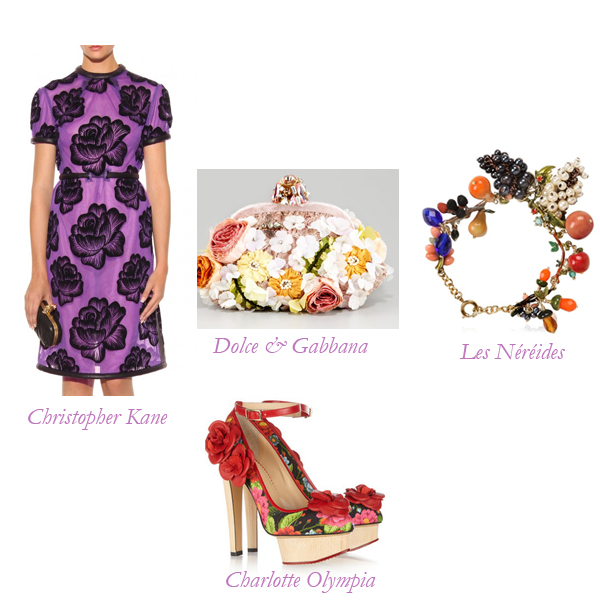 I'm not talking about puffy shorts. The leaves may have fallen to the ground, but suddenly everything is coming up roses. Just as the gloom has descended upon us, we need something to spring us back to life. A boodle of bloomers will do the trick!
Dolce & Gabbana's Miss Dea clutch– a bouquet of jeweled flowers overlaying chantilly-lace-covered suede – is so enchanting, it leaves me with a yen for even more three-dimensional blossoms. Fruit and flowers make a capricious pairing on Les Néréides Autumn Fruit bracelet
 (on Luisa via Roma for $259), and leave it to Charlotte Olympia to take print to the next level. Topping the Flora pump
 (on Net-a-Porter for $1,275) with red-leather rosettes makes for major enthusiasm. (Go for coordinated boldness, and pair the shoes with Charlotte's matching Pandora Matryoshka clutch
. On Net-a-Porter for $995. Or for an untraditional take on the classic floral dress, Christopher Kane's flocked mesh frock makes a big pop (on My Theresa for $3,384). There's just one rule when it comes to fully blooming: only a snob gone wild would wear multiple pieces at once, so limit your brash blossoms to one per outfit!
The Dolce & Gabbana Miss Dea pouchette is available for pre-order at Neiman Marcus for $1,995 (expect delivery by March 28th).