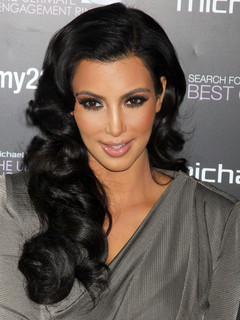 Say what you will about her (and I'm the first to admit I usually don't have all that many positive things to say), but there's no denying that Kim Kardashian has killer eye lashes. To find out how to mimic her look I asked New York City-based makeup artist Anastasia Arianas  – known for creating high impact lashes – for her step-by-step guide!
Step 1: Conceal and prime the entire eyelid and under eye. Arianas likes to use Makeup Forever's #127 Oil Free Foundation or Stay Don't Stray from Benefit Cosmetics.
Step 2: Apply a neutral shadow to your lid that will mattify the lid (Key Largo powder eye shadow from Nars is a go-to she says).
Step 3: Line the inner bottom rim of your eyes with a neutral highlighter.  This will help make your eyes pop and appear bigger. Arianas suggests using Nars' Goddess eye pencil.
Step 4: Now for the lashes. Just like your lids, always prime. Mascara can be very drying, so conditioning the lashes before will not only help strengthen, but it will volumize and lengthen your lashes as well. She likes to use L'Oreal's Double Extend mascara to prime top lashes.
Step 5: Apply two coats of thickening black mascara to the top and bottom lashes. Arianas says that she uses Power Volume Collagen or Voluminous in black by L'Oreal.
Tip: Hold the wand vertically and move your hand side to side until every lash is covered.  Then, still holding your wand vertically move your wand downward on your lower lashes (think of brushing your hair movement). This will help pierce them together to get that mod look.
Step 6: Apply Givenchy Phenomen' Black 1 to the top lashes only. This will immediately add length, volume, and extreme drama to the eyes.
Tip: This mascara is very thick and wet so it shouldn't be applied to the bottom lashes or you'll end up with raccoon eyes.
Wah-la, now you have big, beautiful, lashes….big thank you to Anastasia Arianas for her fantastic tips!
Image: Zimbio