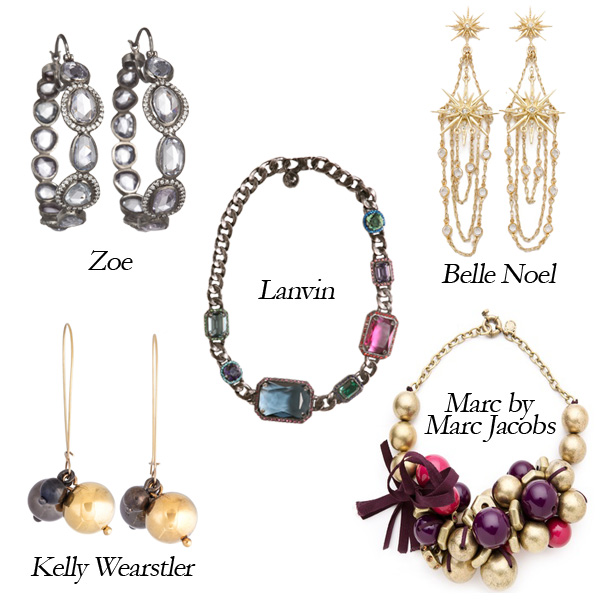 Boughs of holly are nice, but jewels are what make me jolly. You've decorated your tree, mantle, front door…it's your turn now! There's definitely a tacky and gaudy way to wear ornament jewels, but as long as you choose fun and festive (yet still tasteful and sophisticated) options, you're set to shine. You won't find these ornaments at Hallmark – here are the best of the brightest:
Marc by Marc Jacobs Bolts Galore Bubble Necklace: It's tradition to string up cranberries and popcorn. But beads and bows – does it get more festive?? A statement necklace for a statement season!
On ShopBop for $295.
Zoe Sapphire & Diamond Hoop Earrings: Silver bells, silver bells, it's Christmastime on your ears! Diamonds and sapphires decorate – because the holidays are no time to be stingy.
At Barneys New York for $22,350.
Lanvin Strass & Crystal Tutti Frutti Choker: The spirit of the season gets me all choked up, and I love to wear my emotions on my sleeve (or on my neck in this case!).
At Barneys New York for $1,590.
Belle Noel Vintage Glamour Earrings: No matter which holiday you celebrate, there's always a star involved – the Star of David, the Star of Bethlehem, now your star earrings!
On ShopBop for $95.
Kelly Wearstler 18-Karat Gold-Plated Sphere Earrings: You're used to gold baubles for the holidays – why not some gunmetal? With your hair up, these babies will dance in the breeze.
On Net-a-Porter for $225.