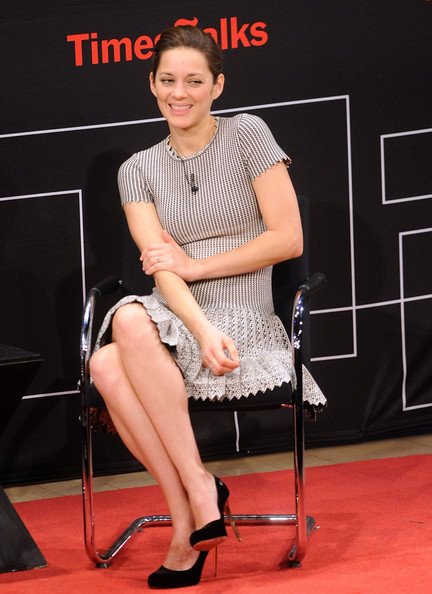 As an actress and fashionista, Marion Cotillard knows a thing or two about outfit changes. But in this pleated Alaïa she's found a day to evening dress that will take her from a work luncheon all the way to the red carpet. A style strategy that will actually save you time and money? I'm in! If you really like to keep things different, carry a change of earring or shoes, but keep the basics basic.
Preen Sybilla Dress
: You'll be lost in the deep blue sea of Preen's way pattern, but thanks to excellent tailoring, your curves won't.
On ShopBop for $1,375.
Lisa Perry Rubix Dress: When it comes to work, I always say err on the side of caution with the fit of your clothes. This loose Lisa Perry has a nice loose fit and is still 100% adorable!
At Barneys New York for $995.
Michael Kors Stretch Wool Silk Donegal Dress
: A belted wool dress is work wear, with its asymmetric draping, this dress is art gallery glorious.
On Luisa via Roma for $676.
Lela Rose Colorblock V Neck Dress>Lela Rose Colorblock V Neck Dress
: Trendy colorblocking to show everyone in the office was a style maven you are! An angular neckline
On ShopBop for $1,295.
Calvin Klein Color Block Fit and Flare Dress: Frugal Snobs can be color block cuties in the clean lines of Calvin Klein.
At Bloomingdale's for $64.70.